The city's unquestioning love of high-rise development is related to its long history of seeing tall buildings as totems of prestige, writes Joe Holyoak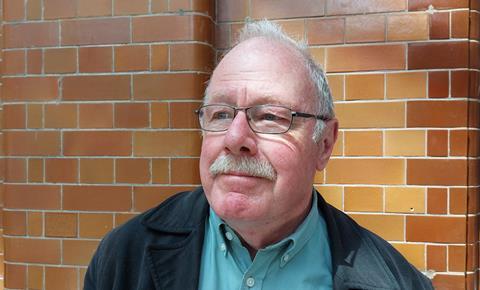 In Birmingham there is a prevailing culture which is strongly pro-development, expressing in new physical form the city's ambition to be a national and global player.
Historians may dispute whether this culture started with, or pre-dated, the powerful city engineer, surveyor and planning officer from 1935 to 1963, Herbert Manzoni. But from Manzoni's time onwards, a specific expression of this desire has taken the form of building high.
In many people's perception, a simple-minded equation is made between tall buildings and prestige and prosperity. I remember, back in the 1990s, the city council's then Director of Economic Development saying that he wanted to see a cluster of tall buildings built in the city centre, so that motorists driving along the elevated M6 near Spaghetti Junction would see them illuminated on the distant skyline and know that Birmingham was a prosperous place.
This is a belief in a kind of superstitious magic.
Also read >> It's 30 years since the Highbury Initiative - so why is Birmingham still making the same mistakes?
Following the influential 1988 Highbury Initiative conference on the future of the city centre, Francis Tibbalds was commissioned to propose an urban design strategy for Birmingham city centre. His report eventually led to a tall buildings policy, High Places, which was published in 2003.
Tibbalds' guidance was based upon an observation of topography which, because of extensive highway engineering and random building development, had literally become obscured: that the centre of Birmingham was located upon a prominent ridge. High Places proposed that building height should be related to topographic elevation: building high on high ground in a circumscribed zone of the city centre, and building lower in the valleys.
This had a logic, but in practice, in the face of development pressures, many exceptions to this rule have been permitted. It is difficult to instill order in Birmingham.
High Places, and a number of other policy documents on design, were replaced in 2020 by the Birmingham Design Guide (a Supplementary Planning Document). This took a more liberal approach to the siting of tall buildings.
No tall buildings were to be allowed in a conservation area
They could now be built almost anywhere on an A-road, and in large regeneration schemes. But at the same time, there were more specific restrictions imposed.
No tall buildings were to be allowed in a conservation area (despite the approval of the 39-storey Moda building in the Jewellery Quarter CA), and it excluded tall buildings with "an unacceptable impact on the significance of a listed building or a heritage asset". On balance, the SPD represented an improved policy on tall buildings.
Except that those criteria are no longer there in the Design Guide. They have been removed at the insistence of Historic England, on the grounds that an SPD cannot contain new policies that are not in the Local Plan.
When can these criteria be reinstated? It requires either an amendment to the Local Plan, or they could appear in the new design codes which the government has instructed the LPA to write. Either way, it could take years to happen.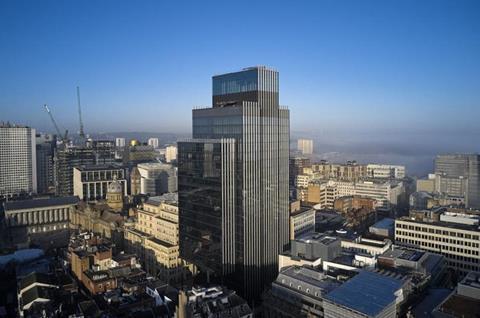 The enforced removal of criteria is doubtless legally correct. But it leaves the city in a free-for-all situation when it comes to the location of tall buildings.
This policy-free zone, when combined with what appears to be an insatiable desire by developers to build huge numbers of small flats, and some offices, in tall buildings in the city centre, is helping to create an incoherent townscape. It was happening already, before the Design Guide.
One of the chief offenders is the 26-storey 103 Colmore Row, an office building in the conservation area which covers most of the city centre. This building, designed by architects Doone Silver Kerr and completed in 2021, rudely and disruptively barges its way into Colmore Row, one of the few streets in the city centre with a consistent identity.
It was the subject of a notorious intervention by the then Chief Planning Officer Clive Dutton, who directly, and probably illegally, addressed the planning committee considering the contentious application, and told them that they must approve it because it was vital to the economic prosperity of the city.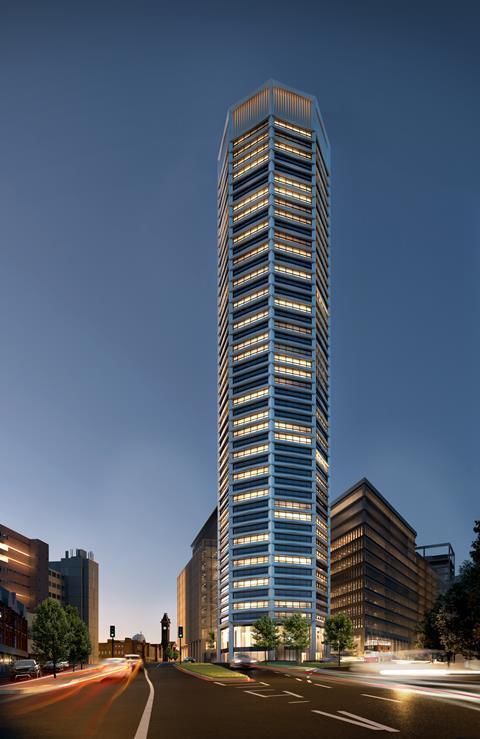 A more recent but also contentious tall building, now under construction, is the 49-storey residential Octagon designed by Glenn Howells Architects. This is part of the Paradise development in the city centre, for which GHA made a masterplan for Argent approved in 2012.
It was a consistently mid-rise masterplan, which did not include a 49-storey tower. The Octagon is an extreme departure from the masterplan, and it will have a large impact on the adjacent Grade II listed Baskerville House, and on the Grade II* listed Museum and Art Gallery and Grade I listed Town Hall.
Its approval makes one wonder what is the purpose of making a masterplan, if such a major departure from it can be approved when a new opportunity comes along.
Another contentious tall building currently under construction is the 28-storey residential building on the corner of Bristol Street, the A38, and the side street of Essex Street. This is designed by architects Glancy Nicholls, who seem to have become a go-to practice for tall buildings.
The proposal was contentious because it stands in a townscape of small street-related buildings, and its construction required the demolition of four of them.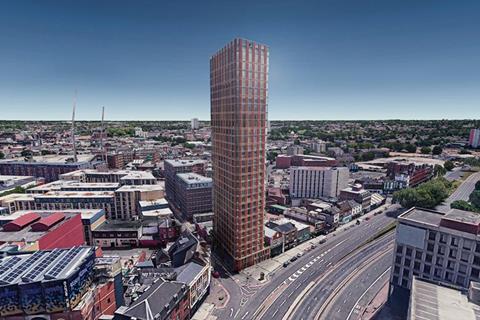 Tall buildings are limited in the extent to which they can perform as architecture. They are architectural one-liners. They can perforate a skyline, to better or worse effect, but they cannot shape urban space: they are unlikely to contribute to an orderly streetscape, or contain much in the way of spatial sequence, or have an interesting materiality or three-dimensional composition.
Although the Octagon will have novelty value because of its shape – it will be the "first pure residential octagonal high-rise building in the world," say its developers. And Glancy Nicholls have made a material commitment in cladding their Essex Street building in red terra cotta.
Tall buildings continue to be seen to convey a magic prestige. That perceived prestige is at odds with the real arithmetic of the carbon crisis. But that is another story.
Also read >> Associated Architects wins approval for 53-storey build-to-rent tower
Also read >> Council approves Glancy Nicholls' 28-storey Birmingham tower
Also read >> Glenn Howells gets green light for 49-storey tower
Postscript
Joe Holyoak is an architect and urban designer practising in Birmingham.