Populous behind new 21,000-seat venue while CZWG designs flats at old and new stadium sites
Southend United's plans for a new 21,000-capacity stadium designed by Populous have been approved.
Southend-on-Sea council's green light paves the way for the club to relocate to a new purpose-built stadium at Fossetts Farm in the Essex resort, which was designated a city after the killing of MP David Amess earlier this month.
At the same planning meeting the council approved the redevelopment of the club's existing 3ha Roots Hall stadium with 502 homes designed by CZWG, 30% of them for "affordable rent".
The new stadium will provide the greater capacity and improved player and spectator facilities required for the National League team.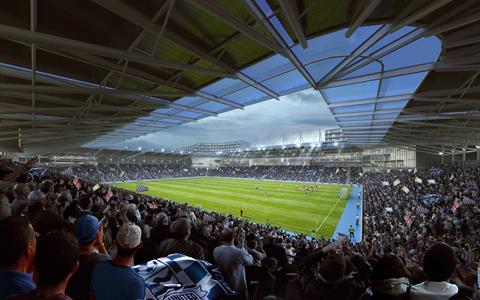 The scheme will also see the creation of a whole new neighbourhood at Fossetts Farm,with a hotel, conference space, football training facilities - all designed by Populous - and detailed approval for 347 homes by CZWG and outline approval for up to 1,144 homes by LDA design.
While stadium-related residential development is typically housed in independent buildings, the proposal for Southend FC places it on top of the stadium. The North Stand will see the residential frontages combined with the stadium's conferencing and matchday hospitality spaces.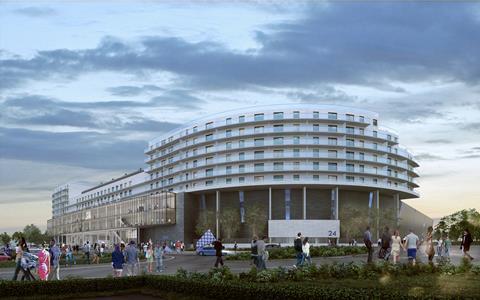 Phase one of the development, which is projected to be finished by 2023, will involve the construction of the three-sided general admission parts of the new stadium, as well as Supporters Way – a tree-lined approach that will be used by the majority of fans on match days.
The second phase will complete principal parts of the development and the overall masterplan, including the North Stand, indoor football domes and residential buildings.
Meanwhile, CZWG's redevelopment at the original Roots Hall stadium will see buildings from three to eight storeys ranged around a garden square echoing the former pitch.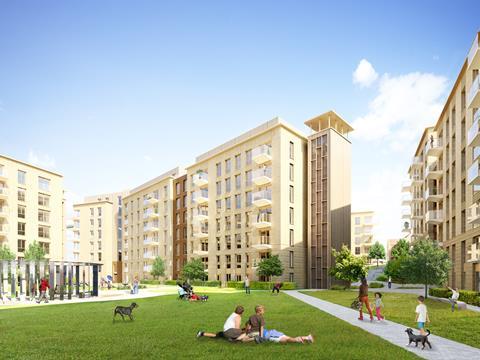 The architect said the buildings would share a rich articulation of brickwork, curved balcony profiles and inset upper floors clad in metal.
Sanjiv Gohil, a director at CZWG, said: "This land-locked site with significant level changes and restricted access, overlapping an adjacent conservation area surrounded by two-storey houses and four-storey apartment blocks presented a significant design challenge. The transformation of the old stands and expansive hardstanding car park into a series of richly landscaped, largely pedestrianised interlinked places stiches in the surrounding areas with connecting through-routes for pedestrians and cyclists, providing a catalyst for the regeneration of the local area."