Medicine galleries double space for 3,000 objects
Wilkinson Eyre has created the largest museum gallery in the world devoted to medicine.
The £24m project on the first floor of the Science Museum in South Kensington almost doubles the permanent display space to 3,000sq m. New lifts improve accessibility to the galleries which were previously sited over the smaller fourth and fifth floors.
Medicine: The Wellcome Galleries takes visitors on a journey through five themes: Medicine & Bodies, Exploring Medicine, Medicine and Communities, Medicine and Treatments and Faith, Hope and Fear.
This is conceived as a progression from darkness into light and back to darkness, symbolising the human life cycle, and is reinforced through the approach to materiality and lighting. Surfaces range from dark-toned panelling at the start and end of the galleries through to a brighter, daylit section in the centre.
A timber engineered floor with a chevron pattern runs throughout the galleries, while the walls are also lined with timber.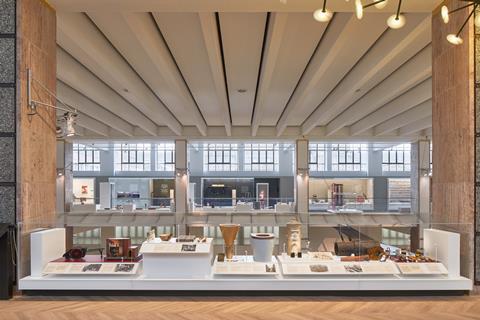 Julia Glynn-Smith, principal architect at Wilkinson Eyre, said: "Our redesign aims to capture the visitor's imagination by providing an appropriate setting for the interpretation of these highly compelling artefacts and by placing people at the heart of each story."
The opening of the galleries represents the culmination of the first phase of the museum's masterplan that in the course of a decade has seen more than 15,500sq m of newly transformed spaces created by architects including Zaha Hadid, Hat Projects and past YAYA winners Coffey Architects.
Wilkinson Eyre has worked with the Science Museum on a number of gallery transformations since 1997, including the Making the Modern World gallery which is now overlooked by the medicine galleries.
Karen Livingstone, director of masterplan and estate at the Science Museum, praised Wilkinson Eyre for its "sensitive and intelligent" cultural work and said the medicine galleries project was "one of the most significant in the museum's history".
The graphics for the galleries were designed by a graphic design team at Holmes Wood led by Lucy Holmes who collaborated with the architects from the outset so that the narrative is embedded into the architecture.
The galleries contain more than 3,000 objects which range from an amputation saw from the 1500s, 18th-century wax anatomical figures, a 1911 pharmacy shopfront and interior and a padded cell from the 1930s.