Redevelopment of Compton and Edrich stands will boost capacity by 2,500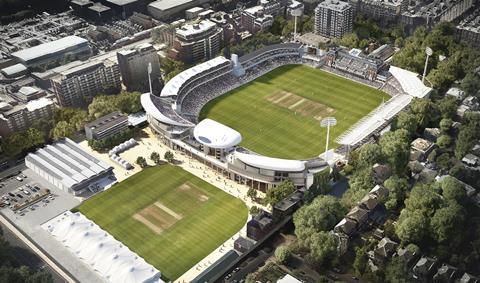 Wilkinson Eyre-designed proposals for the next phase of the redevelopment of Lord's cricket ground have been approved by Westminster city council.
The practice's £50m scheme to replace the Compton and Edrich stands at the Marylebone venue will surround Future Systems' Stirling Prize-winning Media Centre and boost Lord's capacity by around 2,500 to 31,000.
Marylebone Cricket Club said Wilkinson Eyre's designs for the stands' redevelopment – which forms the second phase of a two-decade masterplan for the home of cricket – would complement the ground's "unique setting" and add a new "distinctive architectural appearance".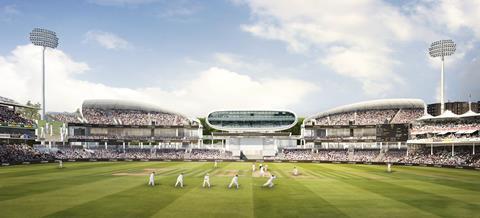 In addition to providing seating for 11,500, the new three-tier stands will provide improved sightlines, new toilets, integrated catering facilities and lifts to all levels.
The MCC said work would start on the stands' redevelopment on 24 August, subject to the ratification of members at the club's annual general meeting in May.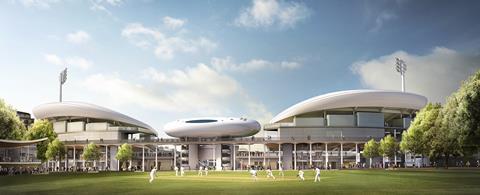 It said the project would be delivered through a "rapid-build design sequence" developed to minimise interruption to match fixtures, meaning that the new stands' seats would be ready for use during the 2020 season. Fully fitted-out facilities are scheduled to be completed for the summer of 2021.
MCC chief executive Guy Lavender said the stands' redevelopment would be another "transformational" step, following the completion of Populous Architects' new Warner Stand in 2017.
"By raising the capacity to 31,000, we will be able to welcome more spectators to enjoy matches at the largest cricket ground in the country," he said.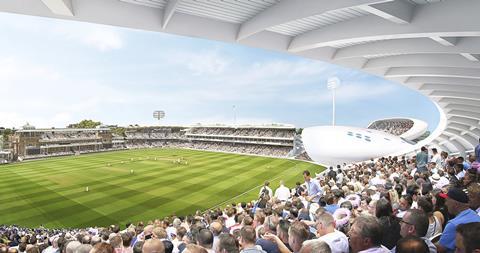 "The redevelopment will be an outstanding addition delivering world-class facilities, ensuring that Lord's remains the finest ground in the world to watch, and play cricket."
According to Lord's updated masterplan, the next phase of redevelopment for the ground is its East Gate Building.