Contractors set up 'war rooms' to deal with outbreak while lawyers see increase in inquiries over contract clauses
Worried contractors have begun poring over their contract terms amid growing fears that they will be asked to stump up the costs of project delays caused by the coronavirus outbreak.
Firms are now bracing themselves for sites to grind to a halt after the World Health Organisation (WHO) last night classified the outbreak as a pandemic – meaning the disease is spreading in multiple countries around the world at the same time.
This morning Ireland and Denmark announced they were shutting all schools. If the UK follows suit, architects and indeed all firms will struggle to resource jobs.
Ireland's taoiseach Leo Varadkar said all schools, colleges and childcare facilities will close from tomorrow as part of a partial lockdown that will apply from 6pm tonight until March 29. He said staff should work from home where possible. Public transport and shops will remain open. He acknowledged it would come as "a real shock" and "would involve big changes in the way we live our lives" but he said he was acting on new medical advice.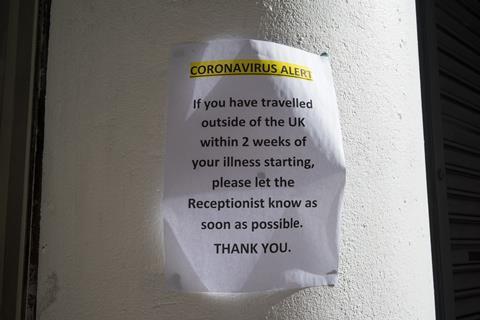 Yesterday Balfour Beatty chief executive Leo Quinn told Building Design's sister magazine Building the firm might be forced to shut sites if the spread of the virus got worse in the UK.
Reports around inadequate hand washing facilities at sites are emerging with many firms setting up "war rooms" to discuss the impact of coronavirus.
One leading London sub-contractor said: "The situation is getting more fraught. I can see some labour agencies and smaller sub-contractors not being able to pay people and that's when breakages in jobs happen. Clients are ringing us up all the time to find out how secure we are and our supply chain is."
Chancellor Rishi Sunak unveiled a series of measures to support firms during the crisis in his Budget yesterday including a coronavirus business loan for SMEs and paying for statutory sick pay for employees at firms with fewer than 250 staff.
But Mark Reynolds, chief executive of one of the UK's largest contractors, Mace, warned these will not be enough, saying: "It is now clear that the impact of the coronavirus on the UK economy and construction sector is likely to be very significant.
"We welcome the chancellor's plans […] however in the construction and infrastructure sectors the costs of any significant disruption to project delivery are likely to far exceed the benefits of these measures."
Despite the measures announced by Sunak, smaller firms remain increasingly worried they will be out of pocket over sick pay and goods they have already paid for.
The boss of online metals supplier metals4U, a £10m turnover firm which employs 40 people near Leeds and which provides materials to tier 1 contractors, said the impact could take years to recover from.
Paul McFadyen said: "I'm worried our customers won't get paid and they'll stop spending. Brexit and coronavirus is a perfect storm that could take three years for the industry to get over."
Law firms have also reported growing numbers of firms getting in touch with them to find out what their legal position is in the face of the outbreak.
Clifford Chance's global head of construction David Metzger said contractors were getting increasingly concerned about the impact coronavirus may have on their bottom lines.
"People from all sides are right to be worried. It was inevitable from the start [coronavirus] was going to have an impact."
Metzger, who is heading the legal giant's own response to coronavirus, said clients, contractors and architects should adopt a more conciliatory approach towards potential disputes.
"I would hope this is the point where people get together and act collaboratively," he said. "It helps nobody if you adopt a strict contractual approach. You end up with bigger problems, if someone falls over and they need replacing."
And he added that upcoming contract signings were being stalled because of worries over the outbreak. "People who provide the finance don't want to put up money if there are going to be claims for delays. Contractors and subcontractors don't want to take on the risk of the unknown."
The firm has seen an increase in force majeure claims – a clause usually triggered by one party to suspend performance or to claim extension of time following an event deemed beyond its control.
But Metzger said: "Force majeure is often taken out of the big UK contracts. Even when it's included, it's a fairly vague concept."
And Simon Tolson, senior partner at law firm Fenwick Elliott, said force majeure was also there to protect employers as well. "It can release the employer from responsibility for payment during any period of suspension," he warned.
Tolson added that the WHO's declaration of a coronavirus as a pandemic was significant because it will "trigger those contracts that expressly declare it so but otherwise what still counts are the specifics. Provisions are construed by concentrating on the actual language used with the result that each particular case rests on its own contractual language and set of facts."
Yesterday the number of coronavirus cases in the UK jumped to 460 from the 373 recorded on Tuesday.
The peak of the epidemic is expected within the next two weeks, according to Dr Jenny Harries, England's deputy chief medical officer.