Residents saw off two attempts by classical architect
Richmond council has launched a second competition to find a design team for Twickenham Riverside in south-west London after original winner Francis Terry was removed from the scheme.
The competition was Terry's first win after splitting from his father's practice Quinlan Terry, which in the 1980s designed the neo-classical Richmond Riverside development two miles downstream.
But local residents banded together to rally against Terry Jnr's design for a site on the Thames behind Twickenham's Mary Wallace Theatre.
Back in 2016 he was awarded £5,000 after beating off five other firms, including his father's practice, to land the design commission from Richmond council.
But a local action group was mobilised after Terry's first set of designs was revealed, drawing opposition from locals.
A new "less bulky" scheme, also designed by Terry, was put forward in May 2016 but was withdrawn by the council in the July, with Terry retained to work up three new proposals for the site which were unveiled in the December.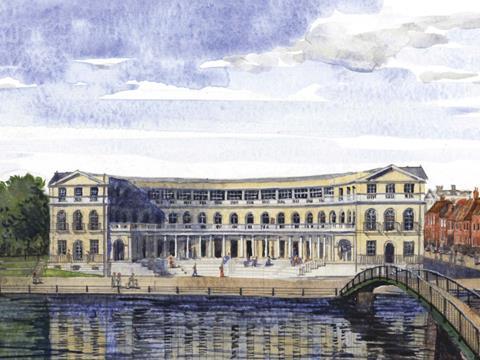 Now RIBA Competitions has launched an international competition on behalf of Richmond council to find a new design for the Twickenham Riverside Project.
The council is now looking for a multi-disciplinary design team to work with it on developing the site.
The first stage involves a PQQ. The second stage will require proposals for a mixed-use scheme that combines public and private realm.
Five teams are expected to be shortlisted and invited to participate in the design phase. An honorarium of £6,500 will be paid to each of the shortlisted teams.
The deadline for applications is 2pm on May 7.
More information on the Twickenham Riverside design competition is available here.