Haworth Tompkins, Morris & Co and Lyndon Goode among successful practices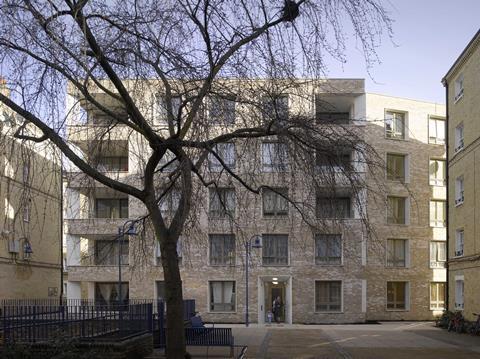 Haworth Tompkins, dRMM and Waugh Thistleton are among the architects to have secured a place on Peabody's £85m consultants framework.
The housing association announced the successful consultants that have been added to its four-year framework today.
Architecture is divided into two sub-lots, for small and large projects.
Morris & Company, Mica and Patel Taylor are among the practices appointed to the lot for smaller projects, while Karakusevic Carson, Levitt Bernstein and Maccreanor Lavington all picked up places on the lot for bigger schemes.
BDP and PRP were also appointed to a separate lot for landscape architects.
See table below for the full list.
In a contract award notice on the Official Journal, Peabody said the framework would be for small to large-scale new-build schemes, masterplanning, refurbishments and ad hoc advice.
The winners of the first seven lots were announced today, with the remaining three lots - for development consultants, planning consultants and surveyors - to be announced at an unspecified later date.
Peabody, which is chaired by former head of the civil service Lord Kerslake, owns and manages more than 66,000 homes across London and the South East. It has earnt a good reputation for the quality of its housing projects, repeatedly appointing design-led and smaller practices.
Winners of Peabody's primary consultants framework lots 1-7
Lot 1: Architects (£25m)
Lot 1: Architects (£10m)
Lot 2: Landscape Architects (£5m)
Lot 3: Building services engineers (£10m)
Lot 4: Structural engineers (£10m)
Lot 5: Employers' Agents (£25m)
Lot 6: QSs (£5m)
Lot 7: Project managers/ JV supervisors (£5m)
BPTW
MICA Architects
Building Design Partnership
Calfordseaden
Atkins
Airey Miller
Faithful & Gould
Arcadis
DRMM
Morris & Company
Exterior Architecture
Delap and Waller
Campbell Reith Hill
Arcadis
Airey Miller
Faithful & Gould
Hawkins Brown
Patel Taylor Architects
Turkington Design Studio
XCO2 Energy
Curtins
Calfordseaden
Arcadis
Hunter and Partners
Haworth Tompkin
Pitman Tozer Architects
Land Use Consultants
Elementa Consulting
Pell Frischmann
Faithful & Gould
Gardiner and Theobald
Mace
Hunter and Partners
Pollard Thomas Edwards
PRP Architects
Max Fordham
Peter Brett Associates
Hunter and Partners
Gleeds
Potter Raper
Karakusevic Carson Architects
PRP Architects
Planit IE
Ove Arup and Partners
Ramboll UK
Potter Raper
Mace
Silver DCC
Levitt Bernstein Associates
Stephen Davy Peter Smith Architects
Tully De'Ath
Rider Levett Bucknall UK
Rider Levett Bucknall UK
TowerEight
Lyndon Goode Architects
Waugh Thistleton Architects
Waterman Structures
Rund Partnership
Turner and Townsend
Maccreanor Lavington
Silver DCC
Mae Architects
Turner and Townsend