Architect and developer expected to speak to government 'to see how plan can be made to work'
The project team behind the Tulip is expected to decide in the next few weeks whether to return to the drawing board or give up on the project entirely after it was turned down for planning by the government yesterday.
Several sources have told Building Design that the team, which includes developer Bury Street Properties, run by Brazilian billionaire banker Joseph Safra, and architect Foster & Partners, will be speaking to government in the coming days about how the scheme can be made to work.
One said: "We have to reach out and find what is acceptable. We're going to sit back and work very hard about what to do next [and see] how this plan can be made to work."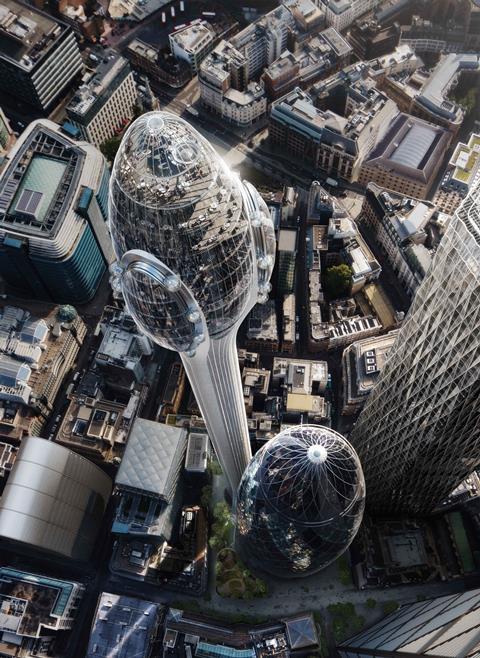 Karen Cook, the PLP architect behind the City's current tallest tower, 22 Bishopsgate, yesterday told Building Design that the tourist attraction needed to broaden what it was proposing. She said: "If it [the Tulip] had other uses, I think it would have stood more of a chance."
The Tulip team was told just after 11am yesterday morning that its appeal against London mayor Sadiq Khan's decision to refuse it planning had been thrown out.
Building Design has been told City of London bosses are "devastated" that government decided to side with Khan. One said: "They're very worried about the future the government has left them with."
Another described Khan as "intransigent" and added: "This should be about London, not Khan. The mayor has tried to frame this as a 'rich banker' thing. This is not an ego trip, it's a genuine project to try and bring something different to the cluster and make [the City] a 24/7 destination. This is not some frolic."
Any decision on what to do next could take up to six months. One option is filing for a judicial review into the decision and going to court. Any challenge must be launched within six weeks of yesterday's decision.
But Building Design understands this is unlikely, given the publicity it would generate and potential reputational impact it could have on the developer. "[Safra] could be portrayed as this aggressive, overseas investor which is just not the case," a source said.
Others said the scheme had been blunted by the current COP26 climate conference with housing and communities secretary Michael Gove and his inspector flagging up the amount of concrete it would require.
In a statement welcoming the decision, Khan's spokesperson said the Tulip was "little more than a concrete lift shaft with a viewing gallery at the top, offering very little in terms of benefits for Londoners, with no new office space or housing".
In his report, planning inspector David Nicholson described Fosters' presentation as "undoubtedly the best presented scheme that I have ever seen in my career or am likely to see" from expert witnesses "who are at the very top of their field".
But he added: "Presentation should not be confused with architectural quality and even hiring the finest architects in the world will not always guarantee quality let alone that all the problems with a brief can be overcome."
In a statement, Foster & Partners said: "We are obviously disappointed with the outcome of the planning appeal. As an unparalleled new attraction, the Tulip was envisaged as a unique cultural and educational facility that would have been a powerful magnet for investment and visitors in the heart of the City of London.
"We feel that London has missed a great opportunity to embrace a progressive vision for the future of the City."
Writing for Building Design today, New London Architecture founder Peter Murray said the Tulip would have brought in new visitors to the area especially on Saturdays and Sundays.
He added: "At weekends the area is dead. The Tulip could have helped to change that, encouraging people to explore the ancient streets of Roman Londinium as well as the contemporary cultural mile. It would have given new hope to SMEs, retailers and hospitality outlets who have suffered horrendously during the pandemic."