EightyFen uses Portuguese limestone to slot into historic streetscape
TP Bennett has completed a 14-storey City of London office block which the practice inherited from Foster & Partners.
EightyFen - or 80 Fenchurch Street - was specifically designed to fit "timelessly" alongside Fenchurch Street's historic mainstays, said TP Bennett.
The block uses solid Portuguese limestone for its façade and has a progression of projecting, flush and recessed windows that step inwards as the building's height increases – maximising views from and light into the lower levels.
It has been "conceptually divided" into nine 15m by 15m structural bays that created an "articulated skyline" from all directions. Six outside terraces cap the building at different levels, offering panoramic views of the City.
The building offers 2,350sq m of office space and 1,160sq m of retail space. It was built by Skanska to a construction budget of £136m.
The block was originally designed by Foster & Partners but developer YardNine brought in TP Bennett to bring it up to modern occupier standards.
Inside, a coffered bridge sits within the double-height entrance space, while a feature metal staircase over the forum connects to the first-floor bridge.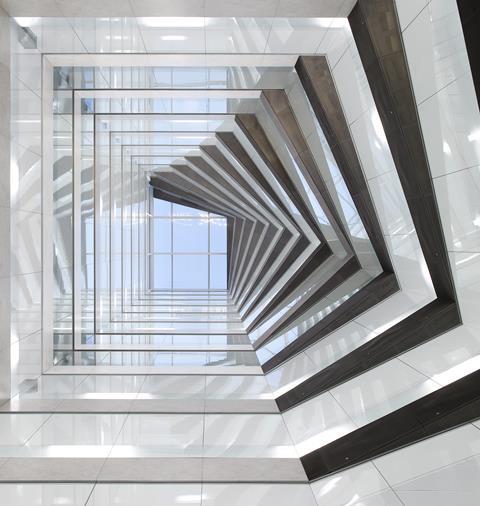 TP Bennett principal director Bill Soper said the building's key feature was its atrium, which spirals right the way up to its roof garden.
"The whole approach to EightyFen is to create a timeless yet modern building design juxtaposing traditional stone and contemporary detailing that asserts its dominance while blending into the historic fabric of the City," he said.
"Within, it also provides a total working experience that has the flexibility for all types of tenants and an entrance amenity reception for meeting and relaxation."
Maxwell Shand, director of developer YardNine, said EightyFen was "originally conceived as a workplace of the future that would attract leading occupiers and create a unique user experience" and that TP Bennett had understood the vision from the outset and delivered to the brief.
One of its first tenants is consultant Arcadis which is taking two floors totalling 40,000 sq ft. Last week Building magazine revealed it was the first of the big consultants to rejig its office requirements because of the covid-19 pandemic, confirming that it would be moving out of its King's Cross home of the past 15 years and into more flexible space in the City this June.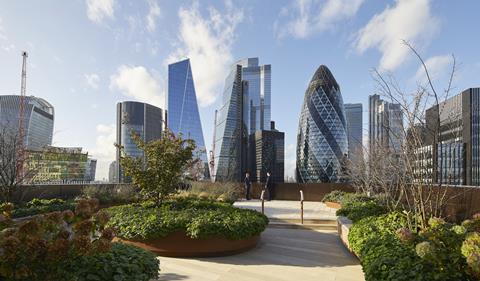 Arcadis said its floors will be fitted out with smart tech like environment and utilisation sensors, to make sure the space is being used efficiently with the new space being designed more as a 'collaboration hub' than a traditional desk-based work environment.