Police make three arrests after former RIBA president fends off robbery attempt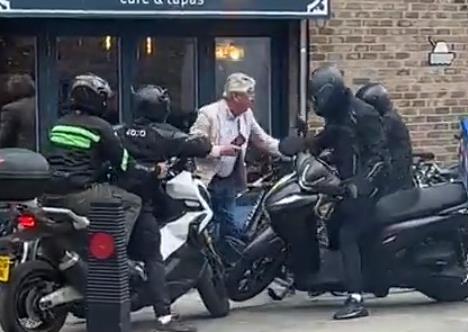 Police in east London have charged a teenage boy following a confrontation between past RIBA president Ben Derbyshire and a gang of moped-riding bike thieves.
Derbyshire, who is chair of architecture practice HTA Design, shared dramatic images of the incident in which he fought off assailants using an angle-grinder in an attempt to steal his Brompton bike from outside a London Fields café on Friday morning.
The footage was filmed by onlookers and identified registration numbers of motorbikes being used by the gang, who struck while Derbyshire was in the El Ganso café with his son and daughter shortly before 11am.
Hackney Police announced on social media yesterday afternoon that a 16-year-old boy had been charged with attempted robbery, robbery and driving whilst disqualified in connection with the incident.
I find myself in an altercation with angle-grinder wielding rustlers after my #Brompton. Fended off with the help of son & daughter and the proprietor of El Ganzo!
Lesson 1: In extremis make lots of noise & take loads of pictures.
Lesson 2: Swap Brompton for my tatty old Giant? pic.twitter.com/vm6tIUREp2

— Ben Derbyshire PPRIBA FRSA HonAIA (@ben_derbyshire) May 12, 2023
Police said that two other people had been released on bail. Earlier in the day Hackney Police had said three individuals – two juveniles and an adult – had been arrested in connection with the attempted robbery of a Brompton pedal bike on Broadway Market and the theft of two motorbikes on 12 May.
Derbyshire was inundated with messages of support after he put footage of his tussle with the gang on Twitter on Friday.
He said the incident had been "depressing" but had left him with two important lessons: make lots of noise and take loads of pictures in extreme situations; and that he should revert to using his "tatty" older bike rather than the £2,500 Brompton.