Architects have until next month to register interest in 'major reimagining'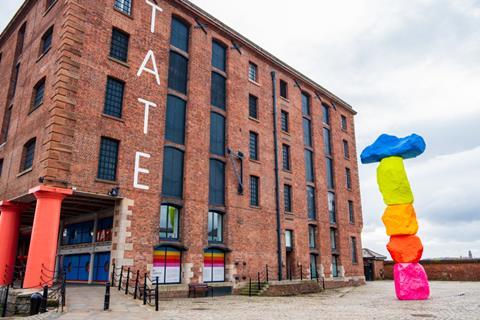 Tate Liverpool is looking for an architect to lead a £25m programme to redevelop the gallery complex.
The musuem and art gallery wants to upgrade its facilities in order to create more exhibition space so it can meet the "ambition of today's most exciting artists".
Interested practices need to register their interest by 4 February, with shortlisted firms set to be confirmed by 18 March.
Tate Liverpool is housed in a converted grade I-listed warehouse at the Albert Dock on the city's waterfront.
It was opened in 1988 by Prince Charles with the original design drawn up by the late James Stirling.
The gallery was given a refurbishment a decade later with the previously unused top floor converted to create additional public facilities including an auditorium and further educational spaces as well as a temporary exhibition space.
Other work has included overhauling the foyer area in 2007 under plans by Arca Architects while artist Peter Blake teamed up with local practice Architectural Emporium to redesign the gallery café more than six years ago.
High-profile practices to work on previous Tate projects at its branches in London and St Ives include Herzog & de Meuron and Jamie Fobert.
What it wants
Tate Liverpool said it is looking to appoint a professional team that can come up with a plan that balance its new goals with the heritage significance of Jesse Hartley's 19th-century grade-I listed structure and the remnants of the 1980s Stirling Wilford conversion.
Tate Galleries said bidders must possess relevant experience, demonstrated by ongoing and historical contract information and that there is an obligation for practices toindicate the names and professional qualifications of the staff assigned to performing the contract
The gallery also outlined a number of fiscal requirements firms will need to meet in order to be considered for the role.
Bidders will be required to provide confirmation that they have systems in place to ensure that organisations in the supply chain are paid on time, that procedures for resolving disputed invoices promptly and effectively are in place and details about payment performance, including the percentage of invoices paid within 60 days.
Firms will also be required to pass a liquidity test and submit the latest three years of audited accounts.