Architectural designer Craig Marston is director of Shropshire-based Ke-design which mostly works on self-builds and other domestic projects. He explains how he - and many like him - slip through the chancellor's net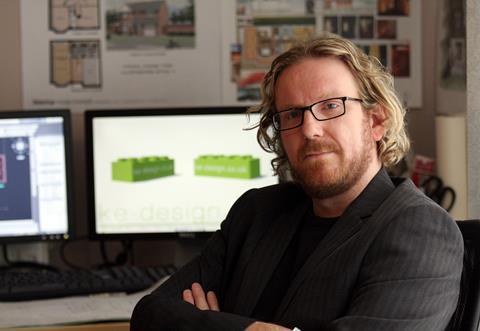 I got straight on the phone to my accountant after Thursday's Downing Street press conference when the chancellor finally announced financial support for the self-employed. We work on a small profit margin, so it will be highly likely I will have to furlough myself.
It is great that the government announced they'll provide support for the self-employed as our industry is made up of a high percentage of self-employed architects, technicians and contractors.
But there are also plenty who, like me, fall between two stools because we are not self-employed but are employed by our own small practices. It is common for directors to pay themselves the minimum salary of £12,500 with the rest taken in taxed dividends – which in my case isn't a lot.
So when the chancellor's measures come through in the summer my situation will be that I'll get 80% of £719 a month.
That is considerably less than our employees will get. I'd also put our newly employed graduate on furlough, but I have just found out he is not eligible as he wasn't on the pay roll on February 28, so I will have to cover his salary.
Ke-design has been hit instantly by the outbreak. Inquiries have dried up.
I don't know how long we will be affected, but from my experience of 2008 it will take a lot longer than everyone just going back to work after the outbreak.
I don't know if I will still have a business because a lot of our work is domestic. I think when this is over people will be looking at saving money – or perhaps going on the holiday they missed this summer – rather than taking on a building project.
People think being self-employed is an easy ride, and that we don't pay taxes. Far from it. We're the backbone of the country and we don't have the benefits of being employed. We work a very small profit margin and the buffer will run out quickly.
I was talking to a friend who works for a large telecom company. He'll be quite happy to sit in the sun for a few weeks on 80% of his salary and then go back to work. I know I shouldn't look at it like that but it's hard not to. It's going to be a depressing time.
The construction industry is always the first to be hit and architects and designers always get it first and are last to bounce back.
But while it's going to be tough, I am not crying "poor me" as I know there will be people in a worse situation. The main thing is that everyone adheres to isolation, reduces the spread of the virus and stays safe and well.
Postscript
Craig Marston is director of Shropshire-based Ke-design. He was talking to Elizabeth Hopkirk