In pics: Old Dairy home and offices slotted between listed terrace and former graveyard
Studio Woodroffe Papa has completed a "stealth" development on a sliver of land in Bloomsbury's conservation area.
The architect, previously known as S333 Architecture & Urbanism, created 11 flats, two town houses and 1,200sq m of commercial space on a 0.2ha triangular site between St George's Gardens and the listed houses of Regent's Square.
The scheme, for Goldenstone Development, is called the Old Dairy because it replaces a former Express Dairy depot.
Studio Woodroffe Papa co-founder Jonathan Woodroffe said: "Given the restrictions of such a sensitive site, constrained by height and on all sides, the primary challenge was to deliver a viable, mixed-use scheme that could offer a variety of homes and workspaces. From a planning perspective the emphasis has been one of stealth."
During the early design stages the practice worked with the Friends of St George's Gardens and designed the scheme so as to not impede existing views from properties or to overlook the former 18th-century graveyard – for both Hawksmoor's St George's Bloomsbury and St George's Holborn on Queen Square – which is now a secluded but well-used public garden.
The design, which won unanimous consent at Camden's planning committee, tapers in plan to fit the site and in section to accommodate tree canopies that help screen the development.
Its shallow pitched roofs are intended to break down the building mass while large windows are restricted to the ground floor. The corrugated metal cladding, folded to articulate the homes, was chosen to blend into the background, with the workspaces closest to the gardens clad in brick to reference the historic boundary wall. The lattice arrangement allows light in while restricting overlooking of the gardens. Light is also introduced via skylights, patio gardens and screened roof terraces.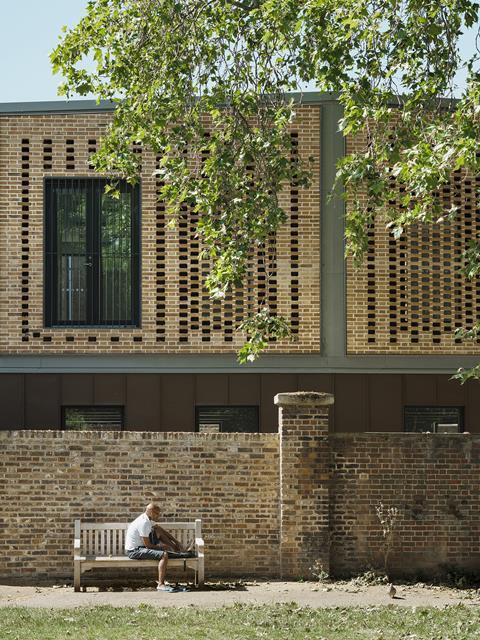 The B1 workspaces, linked by a sunken courtyard, are located at the western end of the site where there is space for access and servicing without disturbing residents.
Studio Woodroffe Papa worked with Stanhope Gate Architecture and LTS Architects as executive architects.