Architect should have known it did not comply with Approved Document B, expert witness tells inquiry
Studio E should never have specified the insulation that was used in the Grenfell Tower refurbishment project, the inquiry has been told.
The practice's confidence in Celotex RS5000 was "an ongoing major failure on their part" to understand Building Regulations, expert witness Paul Hyett said yesterday.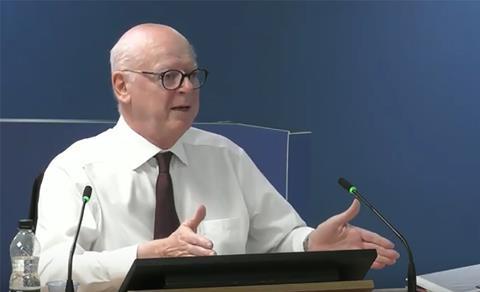 A "reasonably competent architect" should have known PIR (polyisocyanurate) insulation was not compliant with Approved Document B (ADB) of the Building Regulations, he added.
Hyett, a former president of the RIBA, was giving evidence for the second day at the inquiry into the circumstances leading to the fire that claimed the lives of 72 people in 2017.
Inquiry barrister Richard Millett QC read from Hyett's report to the inquiry which says: "Celotex 5000 did not meet any of the definitions for materials of limited combustibility as set out in Table A7 of ADB2.
"Studio E should not have specified an insulation product that did not carry proper certification as evidence of its suitability in meeting the guidelines of ADB2 and the requirements of the Building Regulations."
The same was true of Kingspan Kooltherm K15, another product considered for use in the refurbishment project on the 20-storey tower in North Kensington, he said.
In addition to the Building Regulations, the CWCT standard that Studio E included in its specification stated: "Insulation in walls of buildings with a storey more than 18m above ground level should be of limited combustibility."
The only alternative route to compliance would have been a method such as full-scale testing which was never considered by the Grenfell project team.
Millett asked him: "Do you agree that, in the absence of any consideration of any of the other alternative routes to compliance… quite simply PIR insulation and phenolic insulation should simply not have been considered at all by the design team or specified by Studio E?"
Hyett replied: "Certainly."
Hyett also said in his report: "Studio E's continued confidence in the Celotex RS5000 product, and the use of PIR insulation within the cladding system, represents an ongoing major failure on their part to understand both the requirements of the Building Regulations and the guidance given within ADB2 with respect to insulation in external walls.
"That failure of understanding appears to have extended to both Harley (Mr D Anketell-Jones) and, surprisingly, Exova (Mr Ashton)," he added referring to the specialist façade designer and fire consultant on the project.
Millett then read an extract from an email exchange in September 2014 between Neil Crawford of Studio E and Terry Ashton of fire safety consultant Exova in which the latter says: "If the insulation in the cavities behind the rainscreen cladding is combustible you will need to provide cavity barrier as shown on your drawing…"
In his report, Hyett said he failed to understand how a fire specialist could be asking if the insulation was combustible when "he should well know" it is required to be of "limited combustibility".
He added: "Mr Ashton's reply is astonishing, coming from an alleged expert in fire safety within construction. By stating, 'If the insulation … is combustible' he appears to be condoning an outright breach of ADB2 guidance under paragraph 12.7."
Crawford should have picked up on this and refused to accept Ashton's advice, Hyett told the inquiry. Asked whether accepting the advice and not raising questions fell below the standard of the reasonably competent architect, Hyett replied: "Yes, yes, yes."
Exova was not retained on the project after Rydon was appointed main contractor in March 2014, although it continued to give advice on an ad-hoc basis.
Ashton's advice came post-novation in September 2014 but Hyett concluded that, as co-ordinating consultant, Crawford should still have insisted.
Hyett added: "I cannot understand how an issue like this could have remained unresolved over such an extended period of time, and this goes to the heart of it, I think. An architect should grasp a nettle like this very, very firmly, and gather the people around the screen or the table and thrash it out."
The inquiry heard it was Max Fordham, the services engineer, which first suggested replacing Celotex RS5000 with the FR5000 variant that was ultimately installed in order to help meet the architect's thermal performance aspirations and thickness requirements.
Hyett said Studio E could be "pretty disappointed" that Fordhams suggested a non-compliant material, describing it as a "curveball" but said it was ultimately the architect's responsibility to satisfy itself of the compliance of the new proposal.
No contract: down tools
Earlier in the day, Millett asked Hyett what Studio E should have done when newly appointed main contractor Rydon started asking the practice for work without agreeing terms.
Hyett said: "They can down tools or, put another way, never pick the tools up. That would be a very good starting point."
He conceded that contracts might not be signed immediately but that there should be a "clear indication to the architect that there is a defined scope of work, the fees are satisfactory and that things look good to go".
A contract was not signed until 2015, the inquiry has previously been told, about a year after Rydon won the tender.
Hyett said in a situation without a contract it would be "very risky" for the architect to proceed as though they had been retained on a standard RIBA 'form of appointment for contractor employers' without making clear which clauses they found unacceptable.
He added that starting work without an agreement in place was "putting the project at risk as well as the firm" – something a reasonably competent architect would never do.
Hyett was also asked what employer's agent Artelia should have done when it saw there was no contract. He responded that it was "responsible for a substantial part of the administration on the part of the client, and I can't think of anything more important in that administration process at the start than making sure that the contract's in place".
The inquiry continues.