Winning architects use speech to tell minister how to build quality housing
The winners of the Stirling Prize used their acceptance speech to champion what they said are the ingredients required for successful projects – in front of the new housing secretary.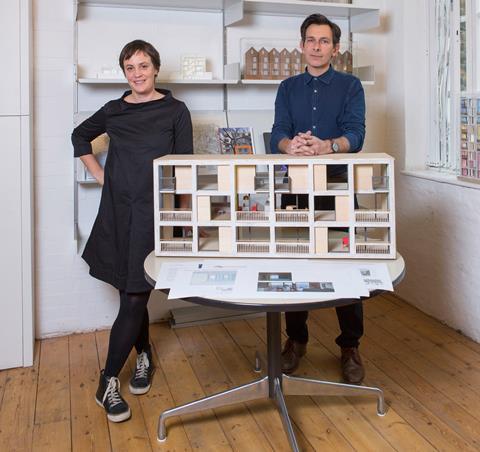 Annalie Riches got one of the biggest cheers of the night when she praised Norwich council for picking a traditional contract over design and build.
The client knew it was the best way to achieve their aspirations, she said after being presented with the coveted trophy from BBC journalist and Stirling host Naga Munchetty.
Riches is one of the co-founders of Mikhail Riches which, together with Cathy Hawley, designed Goldsmith Street, a 100-home Passivhaus-certified social housing scheme in Norwich.
She said: "We wouldn't be standing here without the vision of Norwich council and some of the real forward-thinking decisions they have made. They held an international RIBA competition for council housing, they put us on the shortlist without much of a track-record and they selected the best design."
She then listed other ingredients which included opting for a traditional contract and pushing the architect to aim for rigorous Passivhaus accreditation.
When "the chips were down" and the project was overbudget, the council also put the architect in charge of the value engineering process, she added.
Her partner David Mikhail also praised contractor RG Carter, adding: "Together we worked very hard to bring it in at £1,850/sq m. That's important because a project at that price demonstrates that we – architects, builders, clients – can do it."
He urged housing secretary Robert Jenrick – who also gave a speech at the Roundhouse shindig in which he told architects, "Your profession is at the heart of our society… you are one of the great ambassadors for Britain across the world" – to make sustainability part of the building regulations.
At the after-party, Riches said she was less interested in what the win would mean for the practice – which last month celebrated its fifth birthday – than the message it sent to society.
"I think I'm more excited about how it might encourage more councils to develop sustainable housing that focuses on community," she told BD.