Client's agent emailed firm to find out what price of work might be
A consultant working for the organisation that managed Grenfell Tower asked future main contractor Rydon for a "quick and dirty" check price to help prepare for the procurement process to refurbish the block, the inquiry into the 2017 fire has heard.
The request came in an email from an associate director at Appleyards, which was working to help Kensington & Chelsea Tenant Management Organisation (KCTMO) find firms for the work. It was addressed to Rydon's refurbishment director Stephen Blake.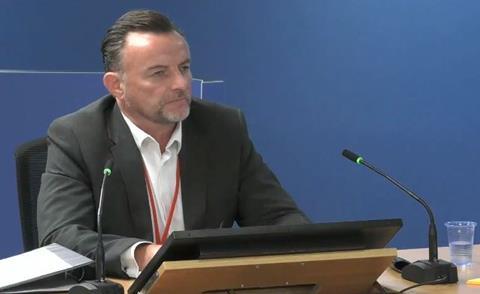 Robert Powell's email came before the launch of the formal exercise to find firms for the refurbishment and 11 months before Rydon was formally selected as preferred bidder for the job in March 2014.
Blake told Tuesday's hearing of the Grenfell Tower Inquiry – probing the background to the fire that claimed 72 lives – that he believed Powell had been seeking help to establish a budget for the project.
Appleyards was subsequently rebranded as Artelia, which had purchased the business in 2012. Artelia was the employer's agent and quantity surveyor for the Grenfell refurbishment.
Asked by inquiry barrister Richard Millett QC why he thought Powell had got in touch with Rydon, Blake said he thought the associate director had been hoping the firm would do his job for him.
Asked what Powell meant by "quick and dirty" costings, Blake replied: "Very high-level costings, without much detail or interrogation". He added that the request had come at short notice and that he had not been able to assist with a figure.
Blake said he had put Powell in touch with two colleagues, just to retain a relationship with him in connection with a job – the Grenfell refurbishment – that Rydon was "interested in doing".
Rydon was picked for the Grenfell job in 2014. Its winning bid for the work was £9.2m, a figure that was significantly lower than rival Durkan's £9.9m bid and the £10.4m bid of Mulalley.
Last week, the inquiry heard that KCTMO's original choice – Leadbitter – had priced the job at £11.2m, a figure £1.6m above the TMO's budget. It subsequently emerged that Rydon had made an "adding-up error" in its bid that meant its price should have been £212,000 higher, while KCTMO revealed it needed to shave £800,000 off the winning bid to meet its budget.
Blake, who is now production director at Rydon Homes, insisted on Tuesday that the adding-up error and KCTMO's need for additional savings had not left the contractor "under water". "The £800,000 is a client choice," he said.
As part of a value engineering exercise, Rydon and facades specialist Harley looked into cheaper alternatives to the zinc cladding that was originally specified for the tower and proposed aluminium composite material (ACM) in either riveted-on or cassette form.
Rydon gave the TMO smaller savings figures for the substitutions than it had been quoted by Harley, giving a saving of £376,000 rather than the full £576,000 if face-fixed ACM panels were used and a saving of £293,000 for ACM cassettes instead of the full £419,000.
Barrister Millett asked Blake why the full savings had not been revealed.
Blake replied: "Change in a contract environment is a way of creating margin for a contractor. And that's what we've done here."
Asked whether Rydon had a responsibility to inform KCTMO of the full extent of savings available to them, Blake replied: "We'd made a choice to put that [smaller] saving to them. That's how it is."
He said he did not know who had made the decision to hold back £200,000 of the potential savings from KCTMO but accepted that he had ultimate responsibility.
Blake also accepted that pushing for the use of face-fixed ACM panels as part of the Grenfell refurbishment would have been "a mechanism" for Rydon to recoup most of the £212,000 of its adding-up error.
Earlier on Tuesday, the inquiry heard that the three most senior Rydon managers directly responsible for Grenfell Tower were all newly promoted when KCTMO selected the firm for the bid and that Grenfell was their first post-promotion role.
Blake filled in for one of them, Simon Lawrence, who quit as contracts manager for the project in October 2015. Project manager Simon O'Connor had also resigned weeks before.
Millett asked Blake whether the situation meant Grenfell had effectively lacked a full-time contracts manager. Blake said that was not the case and that he had visited the tower site at least 75 times while he was acting as contracts manager.
The inquiry continues.