Winner set to be announced in April
The RIBA has given architects until the beginning of next month to send in expressions of interest to carry out a makeover of its historic central London headquarters.
The hotly anticipated job has been on the cards since even before AHMM chief Simon Allford was elected president on a ticket of turning 66 Portland Place into a "house of aechitecture".
The contest, which is only open to RIBA chartered practices, will be run in two stage with finalists called for competitive interviews.
The institute has been based at the purpose-designed building since 1934 after outgrowing its previous home of more than 70 years at 9 Conduit Street, just off Regent Street.
In a note setting out its plans for the revamp, the RIBA said: "As lead architect, the selected practice will help to develop design options, costs and feasibility for the full refurbishment of the building. It will be expected to manage the project, co-ordinate the design team members and determine next steps of the strategic masterplan." The first phase of work has been given a budget of £20m.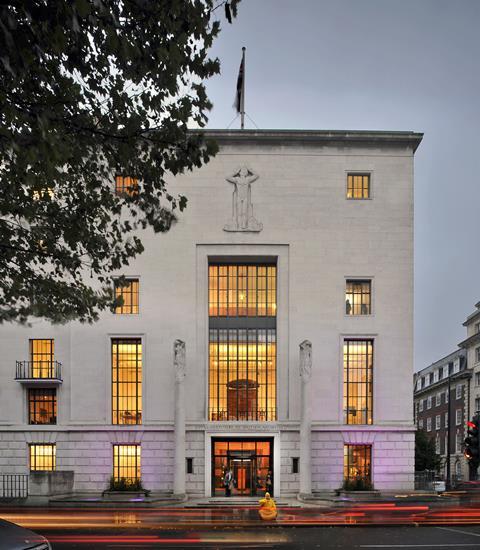 Up to six practices will be shortlisted for the work with the winner chosen by a panel headed by Allford who added: "This presents a great opportunity for a practice to join our team and play a key role in the transformation of 66 Portland Place into an accessible 21st-century building, and an exemplar of re-use and sustainable design.
"The building will be a physical stage for our 'House of Architecture' concept – a space where members, visitors and RIBA colleagues can find inspiration, stimulation and make connections."
Allford vowed to give the building a top-to-bottom overhaul when he took over as president last year and he told his first meeting of the governing council last September that the 88-year-old block was "tired" and inaccessible and needed to be brought up to modern standards.
At the same time it has ditched its overflow building at 76 Portland Place - whose £2.89m redevelopment to create 3,157m² of workspace in 2015 was designed by Theis & Khan. And the institute is also currently making a significant number of staff redundant as it attempts to fill a hole in its finances.
Architects have until 1 February to send in expressions of interest for the redevelopment of 66 Portland Place, with shortlisted teams given a £5,000 honorarium. A shortlist will be drawn up on 24 February with shortlisted teams presenting their plans on 31 March. A winner will be announced the following week.
The others on the jury are Simone de Gale, RIBA board member and honorary treasurer; Liam McConnell, RIBA head of estates and facilities; Murray Orr, RIBA board member (business and enterprise); Jack Pringle, chair of the RIBA board and former president; MaryAnne Stevens, RIBA board member (heritage); Alan Vallance, RIBA chief executive and Sarah Williams, RIBA architect advisor.
When the RIBA first proposed moving to 66 Portland Place in 1929, nearly 300 submissions were received for the design. The winning proposal was by British architect George Grey Wornum with the six-storey, art deco-style structure given a grade II* listing in 1970.
The brief
The RIBA has set out its aspirations for the building in a 35-page document.
It wants 66 to become a cultural, learning, work, broadcast and members' hub.
In addition, the RIBA is seeking to:
• accommodate all staff in 66PP, providing a modern and flexible workplace to suit hybrid methods of working.
• provide four gallery spaces in the building: a Public Gallery, a Members' Gallery, a Collections Gallery and a Public Affairs Gallery, in line with Allford's vision for the institute to serve members but also engage with the public and shape wider political discourse.
It said four key requirements had emerged from a consultation process that started in 2016:
1. Redefine space within the building for various functions.
2. Ensure full accessibility throughout the building.
3. Align with RIBA's 2030 Climate Challenge to achieve sustainable outcomes and meet Net Zero while upgrading the building infrastructure.
4. Sensitive restoration and conservation of the grade II* building.
It said phasing would be critical as it wants to keep key areas open throughout the project.