Reiach and Hall, Stallan-Brand and Moxon among practices vying for Doolan Award
The Royal Incorporation of Architects in Scotland has named the five projects in the running for Scotland's building of the year – one of which is Reiach and Hall Architects' Forth Valley College – Falkirk Campus, which was last week shortlisted for the RIBA Stirling Prize 2022.
It is joined in the running for the Andrew Doolan Best Building in Scotland Award 2022 by another school project: Jedburgh Grammar Campus by Stallan-Brand Architecture & Design.
Also shortlisted are Moxon Architects' Quarry Studios project in Aberdeenshire; Konishi Gaffney's Lockerbie Sawmill; and Loader Monteith's restoration and upgrade of the Category A-listed Modernist house High Sunderland, designed by Peter Womersley and completed in 1957.
The shortlist is drawn from the winners of the 2022 RIAS Awards, which were announced in June.
Newly-appointed RIAS president Chris Stewart said the five contenders for the Doolan Award, which comes with a £10,000 cash prize, were all remarkable buildings.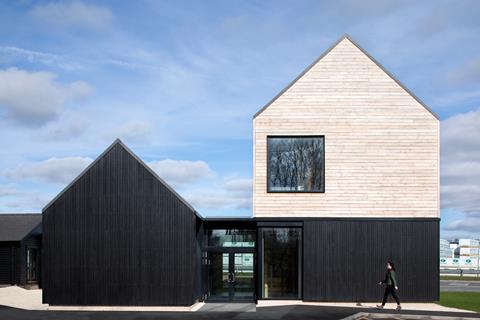 "Our homes, schools and offices form the backdrop to our everyday lives, and this year's shortlist shows how architects can turn the ordinary into the extraordinary," he said.
"This year's shortlist also highlights the relevance of architecture to many of society's most pressing issues – whether that is climate change, young people's mental health or the future of the workplace.
"I am proud of Scotland's architecture profession and this year's shortlist demonstrates why it should be celebrated."
The Doolan Award was founded by the architect and entrepreneur Andrew Doolan with RIAS in 2002 and has been supported by his family since his death two years later.
Last year's winner was Hoskins Architects' extension and upgrade of Aberdeen Art Gallery. The jury for the 2022 award is Groupwork chair Amin Taha, V&A Dundee director Leonie Bell, and Collective Architecture director Jude Barber.
Doolan Award 2022 shortlist
:: Forth Valley Campus, Falkirk, Reiach and Hall
:: High Sunderland, Galashiels, Loader Monteith Architects
:: Jedburgh Grammar Campus, Jedburgh, Stallan-Brand
:: Lockerbie Sawmill, Lockerbie, Konishi Gaffney Architects
:: Quarry Studios, Ballater, Moxon