Announced last May, review had been due to be published last autumn
A review into the restoration and renewal of the Palace of Westminster has been delayed again, according to the team behind the programme.
The review, which was first announced in May last year, will outline a series of cost-saving measures in a bid to bring the budget, recently estimated by public accounts committee chair Meg Hillier to be at least £12bn, under control and get the programme back on track.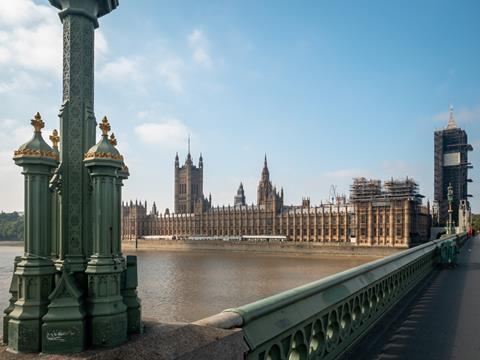 Its findings were originally due to be unveiled last autumn before being bumped into January. This was then pushed back by another month.
But a spokesperson for the programme told Building Design it will now be published shortly – although it has not confirmed when it will be made public.
The spokesperson added: "We will make sure every penny is invested effectively and as well as being subject to robust audit and assurance processes, we will carry out rigorous reviews of costs."
Last month Building Desiign revealed the Northern Estate programme had been scrapped.
The initiative was to upgrade several buildings across Westminster to serve as temporary homes for MPs and parliamentary staff while the Palace of Westminster was overhauled.
This work is being carried out by Wates and involves restoring and upgrading several grade I and grade II-listed buildings in Whitehall, including 1 Derby Gate, where it is already on site, and the Norman Shaw North building. Other buildings it is supposed to be working on include Norman Shaw South and 1 Parliament Street.
It is understood that the works due to take place as part of the Northern Estate Programme will now be incorporated into a wider portfolio of works to the Commons Estate.