Construction firm replacing collapsed motorway viaduct pays homage to those on Italy's covid-19 frontline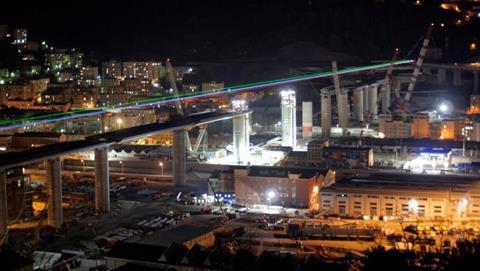 Renzo Piano's under-construction replacement for Genoa's Ponte Morandi motorway viaduct has been illuminated in a show of solidarity with health professionals and other workers at the frontline of Italy's coronavirus response.
Consturction firm Salini Impregilo, which is delivering the replacement for the original 1967 bridge that collapsed in 2018 killing 43 people, said the light shows which started at the weekend would become a daily fixture.
"It is a symbolic gesture to pay homage to the officials, doctors, health workers, security forces, store workers, truck drivers, volunteers and everyone else involved in saving lives and ensuring indispensable services for the country – all without rest," the firm said.
"It is also a gesture that the group intends to use to thank all those workers and other people who work on its sites in Italy and elsewhere in the world, sharing a great sense of responsibility even in complex situations like the one in which we are living at the moment."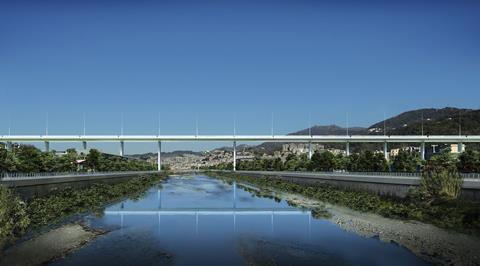 Salini Impreglio and shipbuilder Fincantieri won the €200m rebuild job for the viaduct in the weeks followng the tragedy, which was blamed on the long-term decay of steel rods suspending the 1.2km bridge across the Polcevera River and surrounding vallley.
Piano, whose home city is Genoa, offered to design the replacement at no cost and subsequently said his maritime-influenced proposals would "last for 1,000 years".
He added: "It will be a beautiful bridge, as beautiful as Genoa. A very Genoese bridge. Simple but not trivial. A steel bridge, safe and durable. Because bridges do not have to collapse."