Westbury Park scheme is the first in plan to build 1,000 extra care homes
ESG investor Fore Partnership and extra care operator Amicala have unveiled plans for a 120-home net zero later living scheme in Bristol designed by PRP.
Under the plans, which are now being consulted on, a grade II-listed former school building on the five-acre Westbury Park site will be refurbished along with two-storey cottages and four low-rise blocks.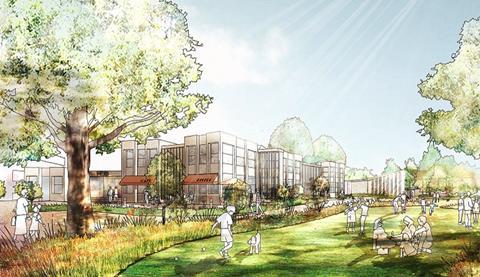 The project, which is being brought forward by developer First Base, will use low carbon construction techniques and materials and be net zero, a spokesperson said.
It will provide a publicly accessible café and activity room and "wellness" facilities, including a hydrotherapy pool and gym. The designs also include extensive open space, sensory gardens, and community food growing. The project aims for a biodiversity net gain of at least 10%.
The Westbury Park scheme will be the first project in Fore and Amicala's plan to build around 1,000 extra care homes through a £300m pipeline of projects.
Helen Jones, chief operating officer, Amicala, said: "Our model of 'extra care' provides high quality sustainable homes, with wrap-around care on hand as needed, and can help ease pressures on the NHS and social care, while also freeing up family-sized homes within the wider Bristol housing market."
The Fore and Amicala partnership up is one of several deals between investors and developers in the growing later living development sector. BlackRock in May announced a £500m joint venture with retirement community developer Audley, while Israeli bank Leumi announced £39m of development finance for operator Hamberley Care Homes.
The consultation on the Westbury Park scheme runs until 19 January.