Open letter signed by 20 bodies calls for better incentives to drive uptake of energy-saving devices
Free heat pumps should be provided for poorer households to drive uptake of alternatives to traditional gas boilers, experts have told the government.
The green heating devices are a core part of the government's net zero goals but can cost up to £35,000 each and may increase fuel bills.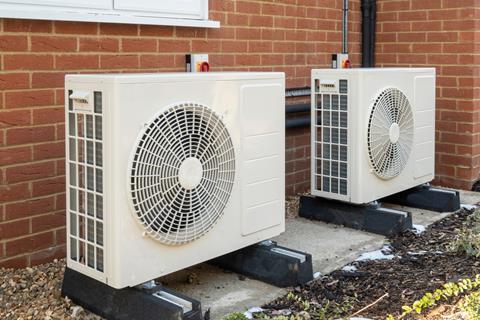 Around 14% of the UK's carbon emissions are produced by heating homes, which are among the least energy efficient in Europe.
The government has said that it wants to install 600,000 heat pumps each year by 2028 in the 24.5 million homes that need them.
More than 20 organisations including the UK Green Building Council and Federation of Master Builders have signed an open letter calling on the government to introduce a 'fair heat deal' to incentivise households to install the devices.
The letter said that lower-income households should be given free heat pumps and insulation, while everyone else should be given grants so that heat pumps would cost no more than a gas boiler.
It added that levies should be moved off electricity bills to ensure that running a heat pump is always cheaper than a gas boiler.
Other financial incentives would include zero VAT on green home products and installation and a green stamp duty to reduce the cost of low carbon homes.
The letter also said that a 'warm homes agency' should be set up to train installers, create green jobs across the UK and maintain high standards.
It comes as the government prepares to publish its heat and buildings strategy, which will set out how homes can be made energy efficient to reduce carbon emissions.
Joe Tetlow, senior political advisor at Green Alliance, one of the letter's signatories, said that instead of outlining how homes will be made greener, it is "leaking like a draughty house, with briefing and speculation filling the void where published policy and positive progress should be".
He added: "The government needs to seize back the agenda, be bullish about its commitment to decarbonising homes and crucially, its intention to protect consumers."
A BEIS spokesperson said: "We are already leading the way to ensure affordability and fairness are at the heart of clean heating reforms, and more detail on our approach will be provided in the upcoming Heat and Buildings Strategy.
"We are supporting lower income households and vulnerable people to make homes greener and cut energy bills and will continue to do so through schemes such as the Home Upgrade Grant and the new Clean Heat Grant from April next year."
The government has already admitted that there are major challenges in persuading homeowners to install heat pumps, conceding last month that it was "uncertain" how mass uptake could be achieved.
At a recent industry event outlining the problem, it said that some heat pumps can create noise that could breach permitted development regulations if too close to a neighbour's window, which it admitted could be difficult to avoid in many buildings.
It also said that installation could take several weeks in some cases and could cause significant disruption, while many homes would not have enough space for the kit – which includes either an outdoor unit or ground array, added piping, a control unit, a hot water tank and a buffer tank.
A shortage of trained installers is also a barrier, with a report earlier this week finding that the UK would need to train almost 10,000 installers within the next four years - eight times more than the number which currently exist.
The report, by consultant EY, also said that officials have not given the industry enough time to prepare for a planned ban on gas boilers in all new homes from 2025.