Architect's hotel and apartment complex channels cubism via Dessau
Israeli architect Ilan Pivko has unveiled plans for a 10-floor hotel and apartment complex described as being an homage to Tel Aviv's Bauhaus legacy.
The Port Tel Aviv project features a 44-room boutique hotel on its first and second floors, with 41 apartments on its upper storeys. Its two penthouse flats feature rooftop decks and private swimming pools.
Pivko said that in addition to reflecting the heritage of the city's 4,000 Bauhaus buildings, which date back to the 1930s and earnt Tel Aviv the nickname "the White City", the project was also influenced by the work of cubist artists Pablo Picasso and Georges Braque.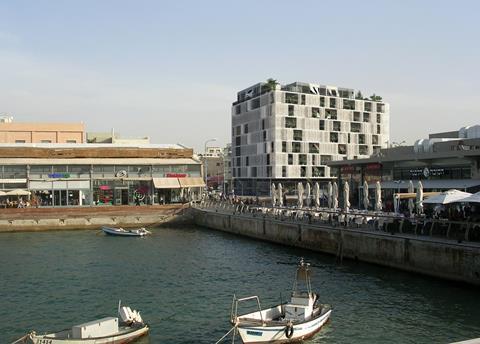 "Port Tel Aviv is my way of paying homage to the city's Bauhaus history - an architecture I greatly admire - and bringing this to a modern, international level," Pivko said.
"The White City is reimagined in my design, with the essence of the development in this Bauhaus style with a new Cubist influence, in a very universal and fluid way."
Pivko's design features a mosaic-like façade created from the contrast between brise soleil shielded panels and open glazed areas.
The architect said the functionality of Bauhaus form was reflected in the innovative movable panels.
The Port Tel Aviv project is a collaboration with housebuilder Hagag Brothers.