Local MP had called on council to subject scheme to its own design review panel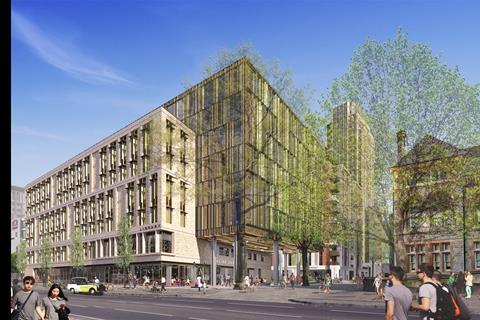 Patel Taylor has won permission for almost 500 new homes and council offices in Ealing. The 26-storey proposals sparked anger with local MP Rupa Huq accusing the council of marking its own homework.
The Uxbridge Road scheme to replace the existing Perceval House civic centre – which includes new civic centre offices designed by Trehearne Architects – is being jointly developed by Ealing council and Vistry Partnerships and will also see a library and 477 new homes built.
The housebuilder and Ealing promised that 50% of the homes would be affordable, under a range of tenures.
The scheme, split across six separate buildings, received resolution to grant at the council's planning committee and will now be referred to the mayor of London and to the housing ministry for final sign off.
But in an impassioned plea to members of Ealing council's planning committee, Huq criticised the impact of the scheme on the Ealing skyline and questioned the quality of consultation.
Huq, who represents the Ealing Central and Acton constituency, said the developer was being allowed to "mark its own homework" because the scheme had not been scrutinised by the borough's brand new design review panel.
She urged councillors to get the panel – then two weeks away from being convened – to further scrutinise the scheme, a sufggestion the council declined.