Practice proclaims 'rise of the suburban workplace' with 13-storey west London scheme
Hutchinson & Partners has won planning permission to redevelop a 12-storey 1970s office block in west London with a new, greener building offering more workspace.
The scheme, designed for Spaceworks Properties, will replace CP House on Uxbridge Road in Ealing with a part 11-, part 13-storey structure that the practice said could provide employment space for up to 1,600 people.
Hutchinson said the practice had explored the potential for extending the life of CP House – which has a five-storey wing in addition to its main tower. But it concluded the sustainability credentials were outweighed by the delivery of a building with greater energy efficiency and environmental quality.
A report presented to members of Ealing council's planning committee said the new offices would have a total floor area of 30,452sq m, of which 23,000sq m would be office floorspace. CP House has a total floorspace of 6,473sq m.
Councillors were told that the tallest element of the proposals would be around 51m in height, approximately 12m taller than CP House.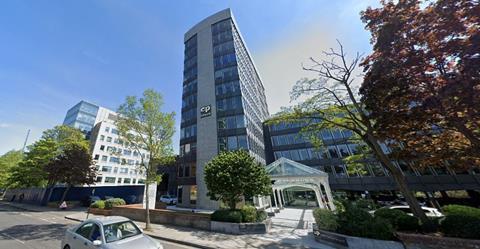 Hutchinson said the new building would achieve carbon-emission savings by shunning non-renewable energy sources for heating and cooling, with air-source heat pumps powered by low-emission utility "grid" electricity used instead. It said photovoltaic panels would decrease the electricity used by the new building.
The practice added that the building's highly insulated envelope with minimal air permeability and double glazing aimed to reduce heat loss in winter, while deep window recesses and solar coatings to glass would limit heat gain in summer.
Hutchinson said users would be given the choice of how they wished to fit out the office space to avoid waste associated with the "typical speculative 'CAT A" fit-outs. Longer term, it said the structure had been designed to be easily adaptable for future uses.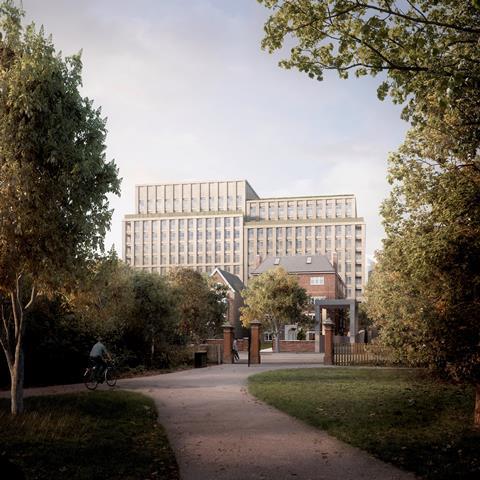 Principal director Ross Hutchinson said the proposals represented the "potential bright renewed beginnings" of the suburban workplace model, following the coronavirus pandemic.
He said that Ealing's improved transport connections with the arrival of Crossrail would make the development a "very viable alternative" to the central London office at the same time as being within 15 minutes of both the heart of the capital and Heathrow Airport.
Members of Ealing council's planning committee approved the proposals at a meeting last month, referring the decision to mayor of London Sadiq Khan.
Project Team
Client: Spaceworks Properties
Architect: Hutchinson & Partners
Planning Consultant: DP9
Townscape & Heritage Consultant: Peter Stewart Consultancy
Communications Consultant: BECG
Structural Consultant: Heyne Tillett Steel
Services Consultant: Thornton Reynolds
Sustainability Consultant: Eight Associates
Fire Consultant: The Fire Surgery
Transportation Consultant: Steer Group
Right to Light Surveyor: Point 2
Cost Consultant: Exigere
Visuals: Darc Studio