Practice retains elements of 1990s Alsop upgrade but turns grade II headquarters into post-covid flexible offices
Hutchinson & Partners has completed a major refurbishment of grade II-listed office building Victoria House in Bloomsbury, originally built in the 1920s to a design by Charles William Long.
The neoclassical building was created as the headquarters of insurance firm the Liverpool and Victoria Friendly Company and contains around 28,000 sq m of office space, along with retail, hospitality and event space over 13 storeys.
Victoria House, which overlooks Bloomsbury Square to the west and Southampton Row to the east, was refurbished by Alsop Architects between 1999 and 2003. Hutchinson & Partners' scheme retains some of Alsop's introductions, including ETFE pillows in the courtyard spaces with suspended meeting-room pods.
The practice said it had worked with client the workspace provider LABS to "reimagine" the earlier interventions as a "contemporary reinterpretation of the character" of its historic spaces.
Practice founder Ross Hutchinson said its team had called on a complementary palette of natural hard-wearing materials that evoked the elegant proportions of the original building, detailed in a modern and minimal fashion.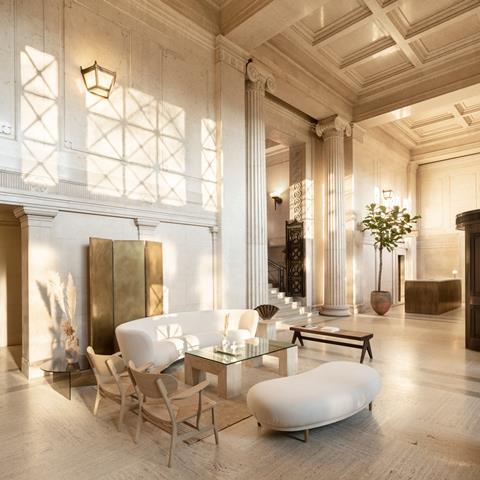 "The aim was to align the sense of old and new, while retaining a strict sense of historical narrative that easily allows the viewer to delineate between the past and the present, while also allowing them to experience the building as a unified whole," he said.
"This emergent language has been used as a basis on which the evolving phased refurbishment of the wider building has been carried out."
Hutchinson said the building's grand historic spaces have remained largely untouched, apart from a thorough cleaning process, developed alongside the LABS Heritage Specialist, and the team at the London Borough of Camden.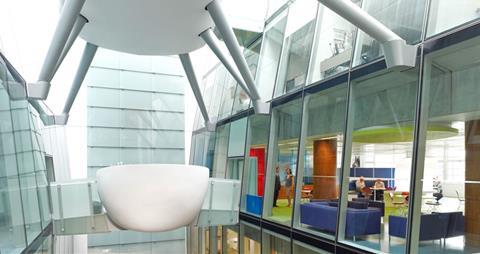 However he noted that the building had been reoriented, bringing the reception down to the street level and reinstating the entrance from Bloomsbury Square as the principal point of arrival and featuring a new reception desk made from patinated brass rods and white polaris marble.
At the upper levels, the drab corporate offices have been transformed into elegant contemporary workspaces. Each level has a timber lined axis at its heart with communal lounges, kitchens, libraries, meeting rooms, phonebooths and informal workspaces.
Hutchinson said the workspace market had changed "significantly" since construction on the project commenced in January last year. But he added that Victoria House's office floorplates were designed to be let as either a large, single space or a series of smaller flexible spaces suitable for SMEs and start-ups.
Project Team
Client: LABS Group
Client Representative: Alpha Projects Group
Architect: Hutchinson & Partners
Planning Consultant: Gerald Eve
Heritage Consultant: LABS / Montagu Evans
Cost Consultant: Rider Levett Bucknall
Structural Consultant: Entuitive
Services & Sustainability Consultant: Scotch Partners
Lighting Design: Light Bureau
Furniture Design: Fred Rigby Studio
Fire Consultant: Astute Fire
Acoustic Consultant: Sol Acoustics
Contractor: TSK Group