Stephen Fry and Tracey Emin sign letter urging Michael Gove to call in Herzog & de Meuron-designed scheme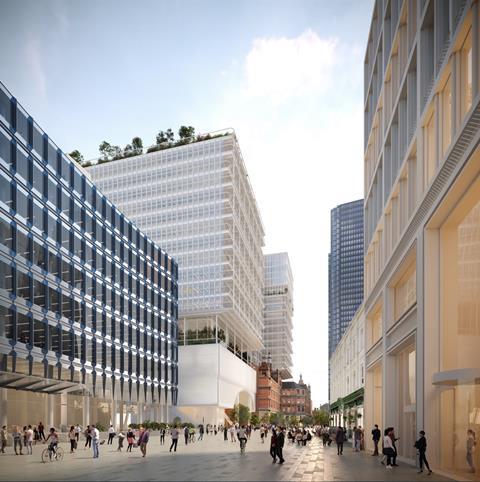 Three past RIBA presidents and several celebrities have joined calls to halt Herzog & de Meuron's controversial £1.5bn plans for a 15-storey tower above Liverpool Street station.
Former RIBA presidents Angela Brady, Ben Derbyshire and Jane Duncan have all signed a letter to The Times urging communities secretary Michael Gove to call in the scheme, which was submitted for planning last week.
Other signatories include actor Stephen Fry, artist Tracey Emin, architect and TV presenter Ptolemy Dean, former Royal Academy of Arts chief executive Charles Saumarez Smith, architectural historian Simon Thurley and architectural writer Jonathan Glancey.
The letter comes two weeks after a group of heritage campaigners led by Victorian Society president Griff Rhys Jones made a similar plea to Gove.
The plans, which have been designed for Shard developer Sellar, would see £450m spent on upgrading the station to expand capacity and the demolition of parts of the station built in the 1980s in a Victorian style.
A new contemporary archway entrance would replace the demolished elements, while a large office block containing a roof terrace and swimming pool would be cantilevered over the adjoining grade II*-listed former Great Eastern Hotel.
In the letter to the Times, which was also signed by Rhys Jones, signatories wrote that to "plonk 15 storeys of insensitively designed tower" on top of the hotel, now known as the Andaz, would be "grossly opportunistic and wrong".
"The claim that a cantilevered building directly on top of a heritage asset somehow 'preserves' that asset is nonsense, and sets a dangerous precedent," the letter said.
It described the station as a "magnificent part of the history of London and Britain, a considered compromise between Victorian heritage and the needs of the railway."
"It could easily be adapted to improve disability access and provide more escalators, independently of a commercial venture that would swamp and destroy the charm of a monument to the railway age," the letter added.
"We urge Michael Gove to call in this planning application and reject it and the terrible precedent it would set for the protection of heritage," it said.
Sellar has insisted the scheme would "sensitively protect and celebrate" the station and the hotel's "unique historic features".
The developer's chief executive James Sellar said last week the plans are "essential in helping London maintain its status as a world-class city and encourage people back to the capital by significantly improving the experience for the station's millions of users and commuters".
When plans were initially unveiled last autumn, heritage groups came together to reform the seventies Liverpool Street Station Campaign (LISSCA), which is chaired by the Victorian Society and includes 10 other heritage groups.