Developer working with G&T and architect Orms on office scheme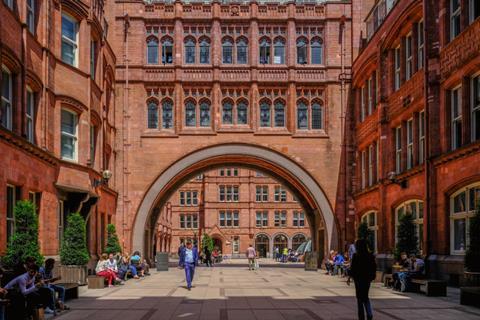 Orms is working up plans for a deep retrofit of part of the grade II*-listed Holborn Bars complex on the fringe of the City of London.
The practice is working on an application for CO-RE, the developer behind the controversial 72 Upper Ground scheme to replace ITV's former Southbank headquarters.
The team, which also includes cost consultant Gardiner & Theobald, is said to be in early pre-application talks with Camden council on the proposals, which would see the refurbishment of three blocks enclosing Waterhouse Square.
Holborn Bars is a large gothic revival complex near Chancery Lane designed by Natural History Museum architect Alfred Waterhouse and built in stages between 1876 and 1901.
Current tenants of the terracotta-face building include WeWork, ITV and investment manager M&G, a subsidiary of insurance firm Prudential.
It has already been modified twice since its initial construction, firstly with an Art Deco styled makeover in the early 1930s before a 1990s expansion designed by EPR Architects.
CO-RE is understood to be looking at three options for the site, with the most ambitious said to be worth upwards of £80m.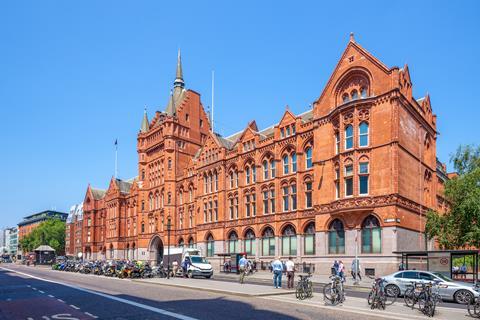 The developer is currently waiting for a final decision by Michael Gove on the 72 Upper Ground scheme, which the communities secretary called in last year and sent to a public inquiry.
The 26-storey proposals, developed in partnership with Mitsubishi Estate, were approved by Lambeth council and the mayor of London last year but received a flood of objections from locals and heritage groups, including Historic England, due to their height and scale.
Lendlease had pipped Sir Robert McAlpine and Laing O'Rourke to the main contractor job just days before Gove's intervention and McGee had been set to start demolition work of the site's current 1970s tower, formerly home to ITV studios.
Others working on the scheme include QS T&T Alinea, landscape architect Grant Associates and engineer Arup.