Infill terrace will overlook Thames in Dickens village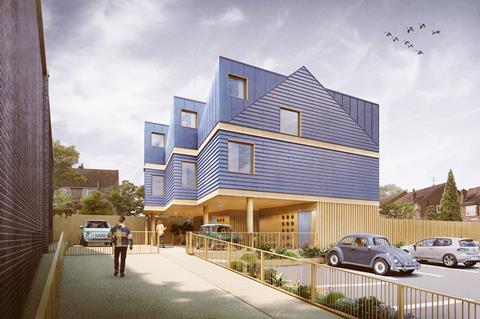 Office S&M has won planning for a terrace of three homes overlooking the Thames that are clad with aluminium panels.
The design is intended to be a modern reference to the timber weatherboard homes that until the 1940s characterised the village of Chalk, on the edge of Gravesend in Kent. Charles Dickens used to holiday in the village and Great Expectations was inspired by his observations there.
Goldsmith Mews, named after the first landlady of the Lord Nelson pub which once neighboured the site, is an infill project that will be built on some derelict garages.
The practice – the current holder of Building Design's YAYA trophy – was commissioned by a private developer for whom it also designed Chipstead Way in Croydon, which won planning last year.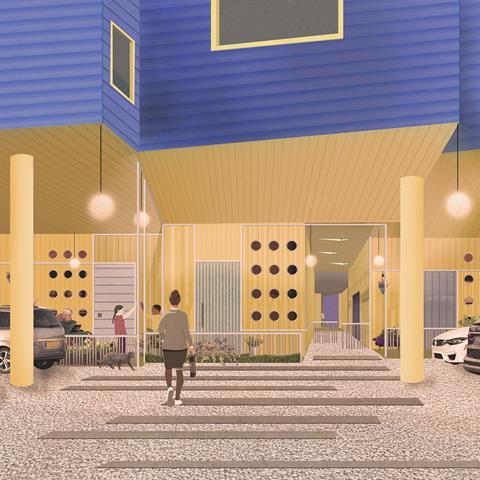 Design South East said: "The proposals are bespoke to the site and acknowledge its complexities and constraints. This should be recognised as a positive approach and far better than placing generic designs on to the site, which so often happens."
The aluminium panels replicate the rhythm and dimensions of timber weatherboarding, yet are durable enough to withstand the conditions of the exposed location on the edge of the Thames.
Hugh McEwen, partner and project lead at Office S&M, said the metal detailing – which includes portholes, was inspired by Jean Prouvé, while lifting the top floors on piloti was inspired by Goldfinger's Willow Road in Hampstead.
The ground floor houses the living room while the first floor contains an open-plan kitchen-diner and a bedroom which can be used as a home-working space or annex with separate entrance for multi-generational living. Two further bedrooms and two bathrooms, one en suite, are on the top floor.
The gable roof form is an adaptation of a common feature in the village. Behind it, a dormer is differentiated by its cladding of zinc standing seam.
McEwen said: "Goldsmith Mews has been designed as a welcome newcomer to Chalk. Its inviting undercroft, neighbourly gable, and demure dormers help it to become a modern part of the village – even the rear garden's crinkle crankle walls are designed to hug the trees they protect. It looks familiar, but like nothing you've ever seen before."