RIBA president laments number of heritage assets 'damaged by neglect, carelessness or conflict' in recent years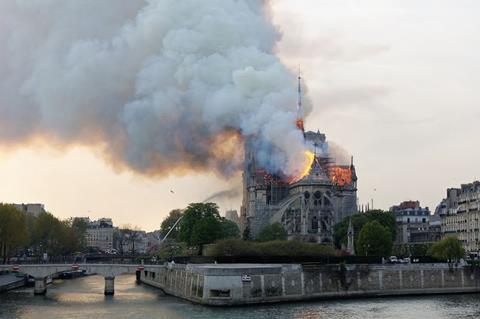 French President Emmanuel Macron and Mayor of Paris Anne Hidalgo have pledged to ensure that the medieval Cathedral of Notre-Dame will be rebuilt following Monday's devastating fire.
The inferno, which was first reported at around 7pm local time, claimed the Gothic building's roof and felled its 19th century spire as Parisians and tourists looked on in horror. Updates on the 850-year-old building's stone work – including its signature towers – suggest the structure can be saved.
Last night RIBA president Ben Derbyshire said the cathedral was the "pinnacle of achievement by medieval stonemasons" and that the institute would support its restoration "to its rightful place in the pantheon of great structures".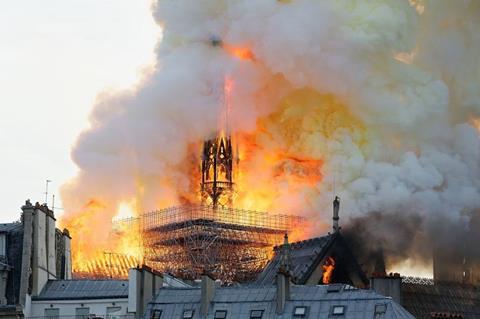 However Derbyshire added that the incident, the cause of which is under investigation – but which broke out while restoration work was under way – appeared to be the latest in a long line of avoidable tragedies.
"Too many heritage assets have been damaged by neglect, carelessness or conflict in recent years," he said.
President Macron last night pledged that the cathedral would be rebuilt as "part of our French destiny", with a fund due to be launched today.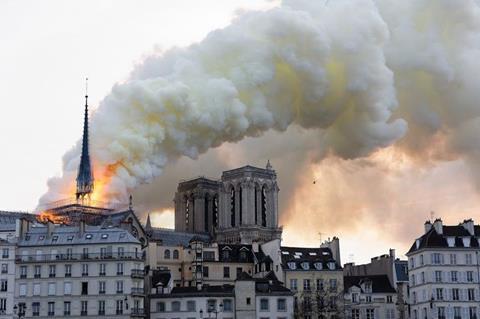 Before most people would have had time to consider their donations, two huge pledges were made by French corporate giants, totalling €300m (£258m) alone.
The AFP news agency reported that François-Henri Pinault, chairman Kering group, which owns the Gucci and Yves Saint Laurent fashion brands, had pledged €100m (£86m); the Reuters news agency reported that the family of Bernard Arnault's and its LVMH a business had pledged €200m (£172m).
Mayor of Paris Anne Hidalgo said she and Notre-Dame rector Bishop Chauvet would co-ordinate fundraising for work which would "necessarily take several years".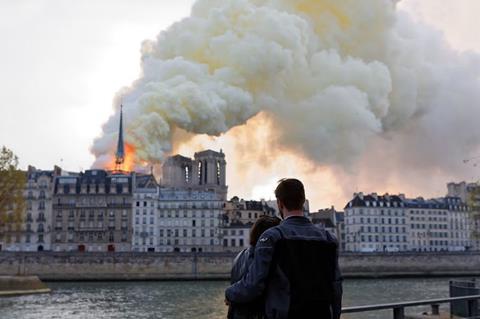 Hidalgo said she planned to organise a major international conference of donors at Paris' City Hall.
Her office said that some important items of art and holy relics had been saved from the blaze by firefighters who formed a human chain.
Rescued items included a relic of the crown of thorns believed to have been worn by Jesus Christ at the crucifixion and the tunic of St Louis, the mayor's office said.