The New Model Building is based on 30 standard details said to offer the same fire resistance as conventionally constructed apartment buildings less than 18m high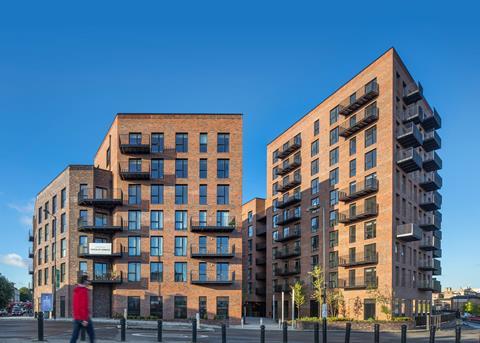 An industry consortium that includes Buro Happold and Waugh Thistleton has developed a NHBC warranty and insurance pre-assessed residential timber frame system in a bid to restore confidence in timber frame construction.
Faith in timber framed residential apartment blocks collapsed after the government banned non combustible cladding systems on buildings over 18m. Concerns about obtaining insurance and mortgages have also had an impact on the use of timber frame for apartment buildings under 18m high.
Called the New Model Building, the system covers CLT and post and beam engineered timber framed buildings up to six storeys high.
The system was developed by architect Waugh Thistleton, Buro Happold, Gardiner & Theobald and University College London (UCL) with support from Built by Nature, a fund set up by philanthropic group the Laudes Foundation to accelerate the adoption of bio based materials and reduce carbon emissions from the built environment.
The principle behind the system is to offer 60 minutes of fire resistance, the same as a non-timber framed building and prevent fires spreading from the unit of origin.
The New Model Building is open source, can be used by anyone without paying a licence fee and should open up timber frame to a wider market. Timber framed buildings are currently ineligible for the GLA's Affordable Homes funding but this system will be eligible.
The system is based on 30 NHBC pre-assessed standard details that apply to the roof, structure, service penetrations and balconies. The details are based on research carried out by UCL.
The timber is encapsulated with a fire resistant plasterboard and prevents the face of the timber heating beyond 200°C, well below its flashpoint. The details also apply to the cladding system and balconies, which must be non combustible.
The details are also intended to prevent damage from water ingress, for example roofs must have a minimum fall of 10° to prevent water ponding and CLT in wet areas such as shower rooms must be protected with a waterproof membrane.
UCL says it commands a 5% build premium compared with a concrete framed building.
A condition of building with the system is to use a fire engineer and supply a fire strategy for assessment by the NHBC. The NHBC will also check construction quality onsite. On completion, projects will be eligible for NHBC's Buildmark warranty and insurance.
Launching the new system, Built by Nature said: "Incorporating this design standard opens the door to using mass timber in multi-storey mid-rise apartments, knowing that the use of structural timber is one of the primary ways to reduce the carbon emissions produced by construction, and bringing us closer to making significant carbon reductions in the construction of new housing."