Opening comes as Knight Architects lodges plans for 70m Canary Wharf bridge
A new Moxon Architects-designed bridge in King's Cross has opened to the public.
Called Esperance Bridge, it crosses Regent's Canal and links St Pancras Square with Heatherwick Studio's bustling Coal Drops Yard retail area.
The 25m carbon steel bridge was named by local children from King's Cross Academy.
The name, which means 'hope' in French, was chosen as a symbol of positivity following a year of hardship because of the pandemic.
Moxon Architects said the red painted structure has been inspired by the area's industrial past.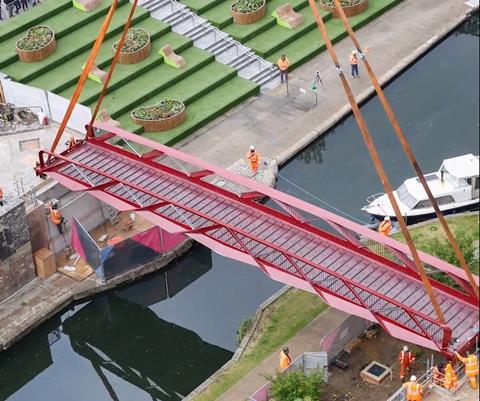 Designed with Arup and fabricated by Yorkshire-based firm SH Structures, it takes its bold colour scheme from a lost bridge dating from 1821 which formerly spanned the same stretch of the canal.
It also includes integrated lighting designed by lighting designers Studio 29.
King's Cross Estate chief executive Robert Evans said the opening of the bridge was a "special moment" for the area and "one of the final pieces of the public realm jigsaw".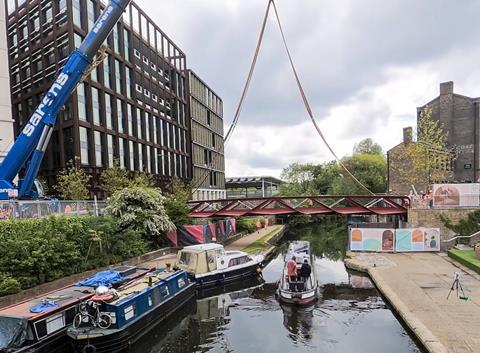 Moxon managing director Ben Addy said it was an "absolute joy" to see the "expressive and sculptural, innovative and delightful" bridge realised.
It is the practice's second bridge in King's Cross after the black-painted Somers Town Bridge about 150m further up the canal to the north west.
Meanwhile, Knight Architects has lodged plans for a new footbridge in London's Docklands.
Known as South Dock Bridge, it has been designed in anticipation of a predicted expansion of the Isle of Dogs' population and is expected to become one of the busiest pedestrian bridges in London if built.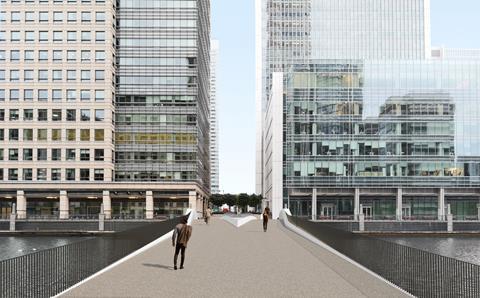 The area is currently seeing a large volume of new residential developments, including Europe's tallest residential development, Squire & Partners' 233m, 752-home Landmark Pinnacle, which topped out in 2019.
The 70m long bridge would cross South Dock, which separates the southern part of the Isle of Dogs from the skyscrapers of Canary Wharf, and includes a section which can be tilted upwards to create a 25m channel for the passage of ships.