Planted balconies will be added to one of the earliest offices to complete in canalside development
Morris & Company's plans to spruce up one of the earliest office buildings in the Paddington Central development have been approved by Westminster council.
The practice will add a series of greenery-covered balconies to 3 Sheldon Square, a 2001 glass and steel building designed by Sidell Gibson.
The proposals, for British Land, will see an external steel structure consisting of nine levels of balconies added to the front elevation.
The lightweight structure, which will hang off cantilever beams projecting from the 18,000sq m building's roof, will provide 542sq m of external terrace space and nearly 80sq m of planting.
Morris & Co said the "bold and playful" retrofit, which will have a bright red-oxide colour, has been envisaged as an intentional contrast to the existing building's grey and green palette.
The practice said that the herbaceous plants and shrubs cascading down from each level will bring "texture, movement, form and colour" to the building's facade, improving views both into and out of the office.
It added that the greenery will help to regulate temperatures in the building, which currently suffers from excessive solar gain in the summer and heat loss in the winter.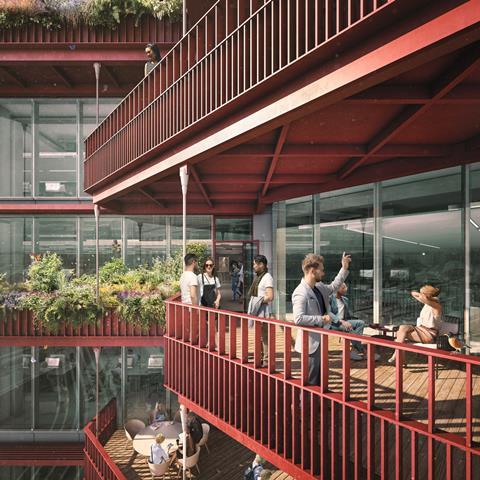 Each balcony will be prefabricated off-site and installed in sections, while the building's steel frame, concrete floor slabs and shaft walls will remain untouched. Construction is expected to start on site in autumn next year and be completed by the third quarter of 2023.

Morris & Co founding director Joe Morris said office workers were increasingly seeking a closer connection to nature in the workplaces.
"Much has changed in the way we think about and design workplaces over the last decade," he said.
"Through the climate crisis, the global pandemic, changing patterns of work and increased awareness of the mental strain workplaces have on our lives, the era of airless offices with the focus on efficiencies over user experience has been replaced by one in which the desire for a connection to nature now prevails."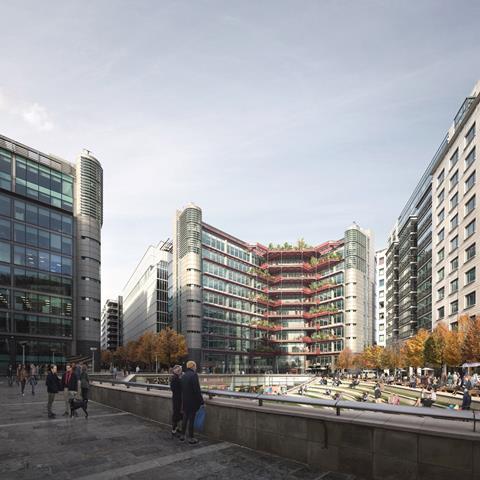 He added that 3 Sheldon Square represents a "typology-breaking approach" where the value of the existing building is understood but enhanced to provide more passive energy use and more amenity.
British Land head of development Nigel Webb said the scheme will turn the 3 Sheldon Square into an "ideal workspace", adding that the building will become an exemplar project for the developer's 2030 sustainability strategy.
Paddington Central has undergone an overhaul in recent years with the addition of British Land's 10-storey 4 Kingdom Street, designed by Allies & Morrison and completed in 2017, and Fletcher Priest's 2019 Brunel Building.