But secretary of state demands right to run rule over scheme designed with Collado Collins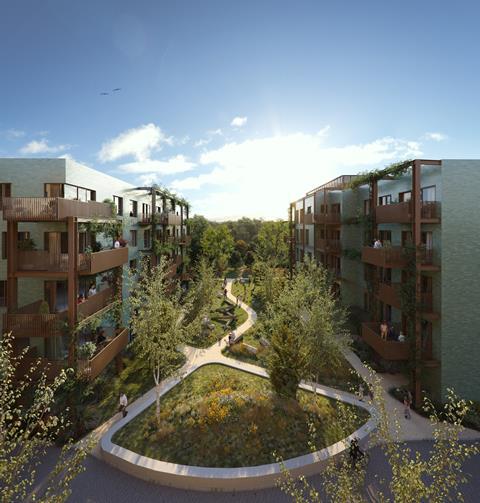 Mayor of London Sadiq Khan has approved plans for a 514-home scheme in Hillingdon designed by JTP and Collado Collins after the borough decided to turn the scheme down on design grounds.
But Inland Homes' proposals for the old Master Brewer site in west London will now go to the secretary of state.
Khan approved the scheme late last week, despite Hillingdon's concerns.
It consists of a series of blocks of up to 11 storeys in height on a 2.5ha former hotel site.
However, housing secretary Robert Jenrick has issued a "holding direction" over the scheme, meaning the project will now move to him for final determination before it can go ahead.
Turning down the scheme in February, Hillingdon cited eight reasons for refusal, including that it represented over-development on the site that would impact on neighbouring green belt, as well as a raft of concerns over the amenity for residents in terms of noise, air quality, parking, daylight and external space.
However, officers at the Greater London Authority concluded the scheme was of a "high quality" design that optimised the potential of the site, had been subject to significant scrutiny, and made "no unacceptable visual impact on the Green Belt." It also met the mayor's target for 35% affordable housing – with 182 affordable homes proposed, and will provide a £1.4m further contribution towards public transport.
Inland submitted plans for the scheme in September last year following consultation with local residents and work with the London Wildlife Trust on plans for a bio-diverse garden area.