Housing secretary confirms he will not call in 514-home west London project for determination
JTP and Collado Collins have won permission for Inland Homes' controversial redevelopment of the Master Brewer site in west London, after Robert Jenrick finally decided not to intervene in the case.
In September, the housing secretary put a holding direction on the 514-home scheme, which is in Boris Johnson's Uxbridge and South Ruislip constituency, after it was approved by the mayor of London in the face of opposition from the local authority.
Now Inland Homes has revealed that it had been informed by the housing ministry that Jenrick had decided not to "call-in" in the scheme for determination, just two days after the developer launched a broadside against the government over its lack of action.
The project, designed by architects JTP and Collado Collins, was originally turned down by the local Hillingdon council, with the prime minister listed as one of the objectors. The council had deemed the project "clearly unsuitable" because it would "completely overwhelm its smaller-scale suburban surroundings".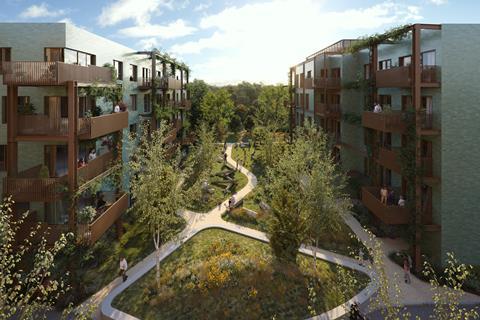 However, London mayor Sadiq Khan decided the project design was of "high quality" and that the proposed tall buildings were "acceptable despite not meeting the locational requirements of policy".
Stephen Wicks, chief executive of Inland Homes, said he was pleased at the secretary of state's decision. He added: "We can now actively progress delivering the scheme, which is supportive of the government's housebuilding agenda, delivering much-needed affordable homes and revitalising a vacant site.
Wicks had accused the government of an "astonishing" failure to provide a timetable for making a decision on the proposals. "At [a] time when the government's policy is allegedly to 'build, build, build', we are instead being met with 'delay, delay, delay", he said.