Developer slams housing secretary's 'astonishing' inaction over 500-home JTP and Collado Collins project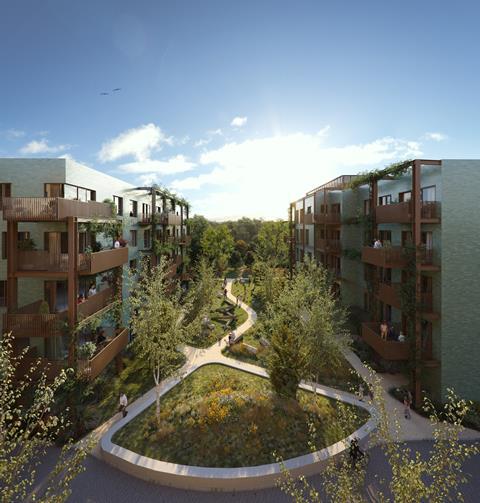 The chief executive of a developer behind a west London housing scheme designed by JTP and Collado Collins has has written to housing secretary Robert Jenrick demanding a timetable for when he will make a decision.
The minister was accused of "Delay Delay Delay", subverting the "Build Build Build" message of prime minister Boris Johnson, the MP in whose constituency the controversial scheme would be built.
The 514-home development at the former Master Brewer site in Hillingdon was rejected by the local council in 2019 after objections were raised in February 2019 by then-backbencher Johnson, the local MP.
The decision was later overruled by Sadiq Khan and approved, but knocked back again after Jenrick issued a "holding direction", preventing any futher progress on the project.
Johnson, who has a majority of just 7,210 in his Uxbridge & South Ruislip seat, had described the scheme as "inappropriate" and "out of character" amid pressure from a number of residents' groups to fight the proposals, according to The Times.
The scheme will consist of a series of blocks up to 11 storeys in height if approved.
Now Stephen Wicks, the chief executive of the scheme's developer Inland Homes, has written to Jenrick slamming the minister's "astonishing" failure to provide a timetable for making a decision on the proposals.
Wicks said that £2m had been spent on a "first-class" planning application, adding that Inland Homes had found itself out of pocket by at least £700,000 in finance and holding costs since the scheme was called in.
In the letter Wicks accused Jenrick of "creating mixed messages for our industry," adding: "At [a] time when the government's policy is allegedly to 'Build Build Build' we are instead being met with 'Delay Delay Delay."
He said Jenrick's failure to set a timetable for progressing to a decision on the application risked "seriously endangering" the entire project. He said it was: "astonishing and wholly unacceptable that there is no statutory timetable for you to make a decision on this planning application."
Inland Homes is in the process of finishing another nearby regeneration project and was expecting to shift the site team directly on to the former Master Brewer site if the proposals were approved, according to Wicks.
He added that the delays were putting jobs at risk and "seriously endangering the entire viability of the project".
The scheme, known as Hillingdon Gardens, will include 35% affordable housing and will consist of a series of blocks reaching up to 11 stories in height along with commercial space and nearly £8m of section 106 and CIL contributions to local infrastructure improvements.
The project team includes lead architect ColladoCollins, masterplanners JTP, planning consultant Knight Frank, highways and transportation consultant WSP and real estate consultant GL Hearn.
Inland submitted plans for the scheme in September last year following consultation with local residents and work with the London Wildlife Trust on plans for a bio-diverse garden area.
The department for housing, communities and local government has been contacted for comment.