Architect says clients hit pause button on jobs
The lingering impact of the pandemic, rising costs of professional indemnity insurance and bad debts in Asia meant Make just about stayed in the black last year, the firm said in its latest report and accounts.
The practice behind the scheme to redevelop the former ITV studios headquarters on London's South Bank, now subject to a planning inquiry after being called in last month, said an increase in revenue only came from the second half of 2021 with work in the final six months of the year "stable" in the UK with "growth mainly coming from projects in China and Hong Kong".
It said: "The first half of the year reflected the continued impact of lockdowns and a slowdown in new projects caused by planning and financial uncertainties for clients."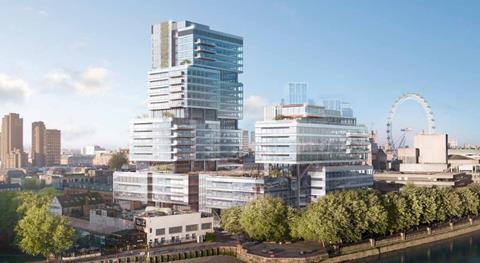 And it added: "Increased expenses were seen in professional indemnity insurance premiums and bad debts in the Asian markets."
Turnover was up 5% to £18.8m but pre-tax profit slumped from £467,000 in 2020 to just £75,000. The accounts show the firm was handed £137,000 – down from £274,000 – in grants under government covid job retention schemes in the UK and Australia.
It said revenue in the first quarter of this year was "strong" and in the accounts, signed off at the end of last month, added that "the economic uncertainty seen in 2022 has not had a detrimental impact on Make's performance in 2022".
But it warned Brexit was hitting recruitment saying the ability "to [bring in] and retain staff of appropriate experience and calibre has become more pronounced…with the number and quality of applicants falling".
The accounts also show Make set up a new subsidiary in China which is based in Shanghai. Revenue from the UK last year was close to £15m, with Asia and Australia combined accounting for £3.5m.