Self-build specialist Unboxed Homes trials new models on 1.2ha site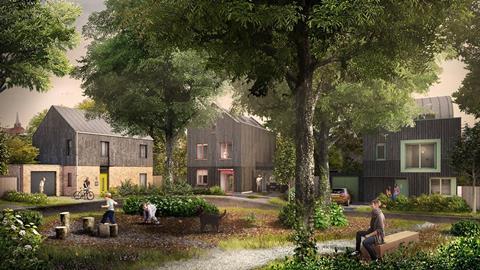 A new custom-build housing scheme created by a team of architects and a developer hopes to challenge the orthodoxies surrounding solving the country's housing crisis.
Basildon council unanimously approved the development, with Homes England having secured initial planning permission for the Pound Lane custom-build scheme in Laindon, Essex, which will see 12 new homes delivered by 2023 once work starts early next year.
Developed by architects AOC, Mae and Pitman Tozer and self-build specialist Unboxed Homes the 1.2ha site will feature three-, four-, and five-bedroom family homes.
Buyers can select a range of options, from the number of bedrooms and bathrooms to the finishes and fittings in each room, as well as an optional garage for parking. They can also buy a shell unit and fit out their new home themselves.
The plots sit in secluded woodland and will have a private road leading into a communal space at the centre of the development. Prices for the homes start from just under £376,000.
Gus Zogolovitch, director at Unboxed Homes, which has already built a number of homes across London, said the industry needed to do things differently if it were to solve the housing crisis.
He said: "My mission is to create better homes and I think that by joining forces with architects and by letting customers have a say in the design, the layout and the specification of their new homes, we will achieve that.
"This is a modest scheme but has potential to be an exemplary approach to a new way of development, one where the incentives of customers, funders, designers and builders are all aligned."