Tonkin Liu and Jas Bhalla among 16 teams in the running for £10,000 trophy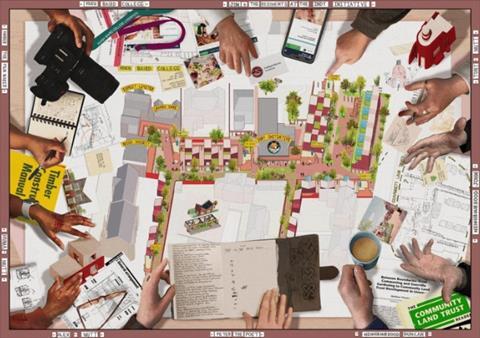 A panel of judges chaired by Sadie Morgan has named 16 teams longlisted for the third annual Davidson prize.
Tonkin Liu and Jas Bhalla are among practices in the running for this year's ward, which is themed around homelessness.
The fledgling design ideas competition was set up in 2021 in memory of Alan Davidson, architectural visualisation pioneer and founder of studio Hayes Davidson.
Each year it asks multi-disciplinary teams, which must include at least one architect, to submit conceptual solutions to a societal issue. Last year's prize had the theme of co-living and was awarded to Charles Holland Architects.
For this year's theme, titled "Somewhere to call home", teams presented ideas for new kinds of communities where people who have experienced homelessness and housing security can "settle, recover and find their bearings".
The 2023 panel of judges asked for cross-disciplinary approaches which deepened discussions around solutions to homelessness and found new ways to communicate with non-architectural audiences.
Recurrent themes among the entries included new approaches to group-build housing, education and re-use of high streets, shopping malls and unoccupied buildings across the UK.
The judging panel said all 47 entries to the 2023 prize shared an "unwavering determination to find better, more caring and more humane solutions" for the 271,000 people currently recorded as homeless in England.
Morgan said: "The quality of the shortlisted schemes is testament to the high bar set by all submissions this year. The diversity of themes, depth of research and innovative ideas made deciding a shortlist extremely difficult."
Marie Chamillard, director of the Alan Davidson Foundation, added that Davidson would have been "very moved" by the submissions.:
"The sense of commitment and care that came across through all entries to this year's prize was overwhelming," she said.
The full longlist of teams, listed below, will be whittled down to three finalist teams at the next stage of the competition which will each receive £5,000 to develop their design concept and present a two-minute visual media presentation to the panel.
The finalists will be showcased at an event during the London Festival of Architecture in June, when the winner of the £10,000 prize will be announced.
Charles Holland Architects' winning 2022 proposal, created in conjunction with the Quality of Life Foundation, Verity-Jane Keefe, and Joseph Zeal-Henry, sought to reinvigorate rural communities with a new type of shared communal housing focused on wellbeing.
The inaugural 2021 trophy, themed around future ways of working, was awarded to a multidisciplinary team led by Haptic Architects.
The 2023 longlist:
ArchiSense - Neuronest London
Balaam Murphy, Platform Homes Self-Build, Social Action for Health, Single Parent Rights, LucieStroud, Circlus - The Mother's House
Building Trust International - Carpenters Estate
Duty to Care - Homes on the High Street
Footprint Architects with Hope for Food Charity, Tammy Woodward and Rebecca Smith of WDA - The Talbot Sisters' Legacy
Jas Bhalla Architects with All People All Places and Sheffield University - An Unhostile Environment
Patchwork with Coffee Tots - City Arcade
Re-Group: ZCD Architects with MKA and Datshiane Navanayagam, Architecture Doing Place, JCLA, Webb Yates Engineers, Charles Jegar - More Not Less
Rifugio - Switch
Soft Cities with Coffey Architects, Margaret Ravenscroft, Dion Barrett, Room for Refugees and Vanclaron CIC - Rights of Passage
Studio idir with Me, Him & Her Design, Peter McKinney and Maura de Mello - Rhiz(h)ome
Studio MUTT and Neighbourhood with The Independence Initiative, Hugh Baird College, Islington Hostel Outreach, Amber Akaunu, Peter O'Neiland Dead Good Poets Society - Helping Hands
Tonkin Liu, Studio Mama, Hildrey Studio and Under One Sky Together with Exmouth Market community - Garden Family
Tropisms, EcoResponsive Environments, Yasmin Lennon-Chong, Marie-Louise Jones, Elena Tamosiunaite and Focus E15 Campaign - Re-Focus E15
Wild & SNaB - Home Building
Will King, Hari Kumar Studio, Amnesty Feminists, Domestic Abuse Housing Alliance - Space for Roots to Grow