Applications close July 19
The London Legacy Development Corporation (LLDC) is inviting applications for someone to lead the panel charged with maintaining high-quality design in the area.
The body is looking for a chair or co-chair for the quality review panel, which is in charge of upholding top design standards across the regeneration of Queen Elizabeth Olympic Park and the neighbouring boroughs of Hackney, Newham, Tower Hamlets and Waltham Forest.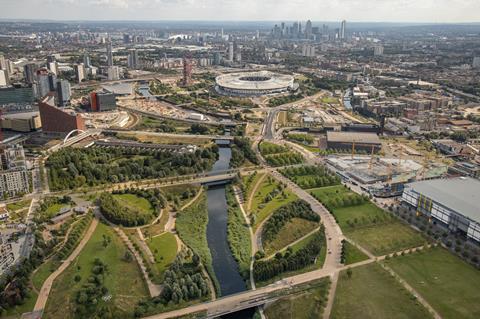 The LLDC has responsibility for all planning functions, including development of the local plan and determination of planning applications in this area.
Since 2012 the Quality Review Panel has provided independent expert advice on developments across the Development Corporation area.
Peter Studdert, who is stepping down, has chaired the panel since it was established.
He said: "The quality review panel plays a major role in helping LLDC meet the highest possible standards of design and sustainability, and the chair plays a key role in ensuring that these standards are met working alongside the planning and design teams at the corporation and playing a key part in advising its planning decisions committee."
LLDC is now looking for a new chair or co-chairs, with the panel currently made up of 30 built environment professionals.
The LLDC said it was looking for applications from individuals who have extensive experience of championing high quality urban design and architecture, a demonstrable understanding of how to achieve this through the town planning process and a knowledge of east London, Queen Elizabeth Olympic Park and its surrounding area.
It said applications were particularly encouraged from women, people from black, Asian and minority ethnic backgrounds and disabled people, as these groups were currently under-represented throughout the building industry.
Applications should be addressed to Frame Projects, which manages the quality review panel, and submitted by July 19.
Building [Re]Design: The Stratford Design Challenge
Building Design is launching a design challenge using Stratford as a live case study. Our aim is to showcase your creativity, connect visionary thinkers and kick-start some important conversations.
The brief: Simply identify an issue in Stratford town centre that you find compelling and use your design creativity to imagine a better future. Submit your ideas in one sketch and 500 words and we'll showcase the best on Building Design's website, our other digital channels and at an event later in the year.
The challenge is open to all architects, but we are particularly encouraging entries from architects who are in the early stages of their careers and architecture students. Solo, practice and inter-disciplinary entries are welcomed, as long as the submission is led by an Arb-registered architect or an architecture student.
The closing date is July 23.