Georgie Wolton's "meticulously conceived" Hampstead home gets grade II status
A 1970s studio house designed by an early professional collaborator with Norman Foster and Richard Rogers has been awarded grade II-listed status.
Georgie Wolton's 34 Belsize Lane home in Hampstead, north-west London, is described as "structurally simple" by government heritage adviser Historic England, but praised for its "creative handling" of natural light and spatial proportion.
Wolton's design features rooflights, bespoke timber sliding shutters and "conservatory-like antechambers" to separate living and working parts of the home.
Historic England said the structure was one of a small number of buildings by Wolton, who specialised in landscape design as her career progressed.
Nevertheless, it acknowledged her "pivotal" role in the formation of the Team 4 practice, the most famous members of which were Foster, Rogers, Su Brumwell and Wendy Cheesman.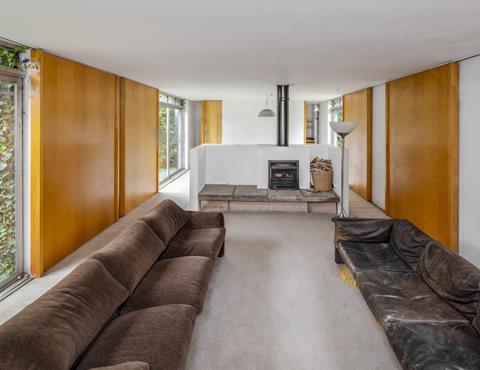 Wolton – the elder sister of Cheeseman, who later married Foster – was the only qualified architect in Team 4 when it was established in 1963, however she left after a few months. She worked for a short period with Adrian Gale, formerly of Mies van der Rohe's studio, before spending the rest of her career as a sole practitioner, a rare move for a female architect in the postwar period.
Historic England regional director Tom Foxall said Wolton's buildings were little-known but had made an important contribution to postwar Modernism in England.
"We are pleased that 34 Belsize Lane is recognised on the National Heritage List as an accomplished piece of her work," he said. "The building is a meticulously conceived studio house which creatively integrates into its setting and meets the high threshold for listing."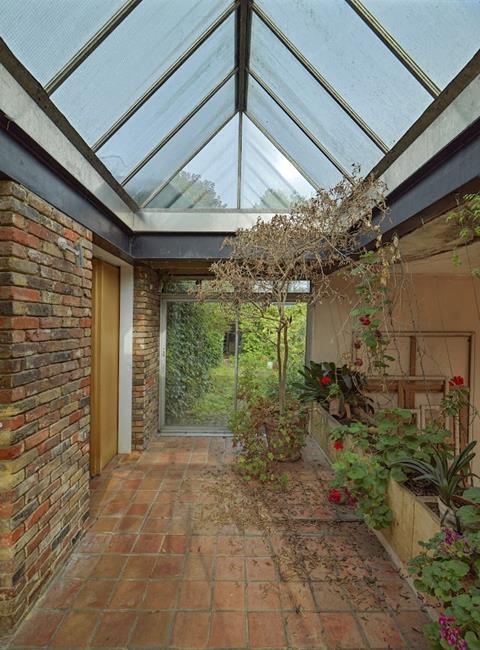 Twentieth Century Society director Catherine Croft said Wolton and 34 Belsize Lane were both groundbreaking.
"In Georgie Wolton's generation, architecture was largely a man's world. Building her own home exactly as she wanted it could be seen as a subversive and powerfully feminist act," she said.
"34 Belsize Lane is a really subtle and understated project, a very personal work which has survived remarkably intact. Behind an unassuming boundary lies a small masterpiece – a house she called the 'last of the English follies', one totally in touch with the exciting architectural zeitgeist of its day, but also unique and uncompromising."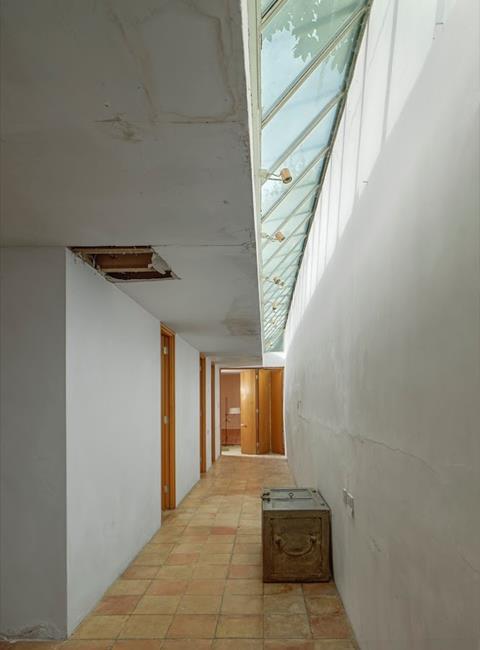 Wolton, who died in 2021 at the age of 87, is best known for her Cliff Road Studios in Lower Holloway, north London, built in two phases in the late 1960s and early 1970s.
Her now-demolished Fieldhouse in East Horsley, Surrey, featured one of the first domestic uses weathering steel in the UK.
Wolton's later landscape projects included work for Rogers, and a garden for Ruth Rogers' River Café at Hammersmith.