Royal Free Hospital will be second north London instiution to 'get a Libeskind'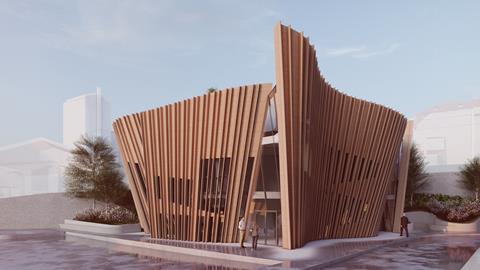 Daniel Libeskind's Maggie's cancer care centre at the Royal Free Hospital in north London has been approved by Camden council.
The two-storey timber building will be built in the grounds of the brutalist Hampstead hospital. As well as domestically scaled spaces set around a kitchen table – a requirement of all Maggie's briefs – the new centre will have a garden on the roof.
The charity, which provides free advice and support, is hoping to open its new 435sq m centre by the summer of 2022. It will replace a building used by another charity Cancerkin, whose services are now provided by Maggie's, with some users expressing concern that the new structure would have less space than the old.
The project will also result in the loss of some trees and 18 car parking spaces.
A Maggie's spokesperson said they were delighted to win consent, adding: "Our plans for a purpose-built centre will ensure we are able to support as many people as possible living with cancer, as well as family and friends, from across the area served by the Royal Free Hospital."
The hospital also welcomed the news.
David Castle, chair of the planning committee at local amenity society the Heath & Hampstead Society, told the Ham & High newspaper the development would have a positive impact.
"It might actually improve the look of those depressing car parks," he added.
Libeskind has already built in north London. He designed a student centre for London Met University on the Holloway Road which opened in 2004.