Lawns and flowers would be planted along world-famous street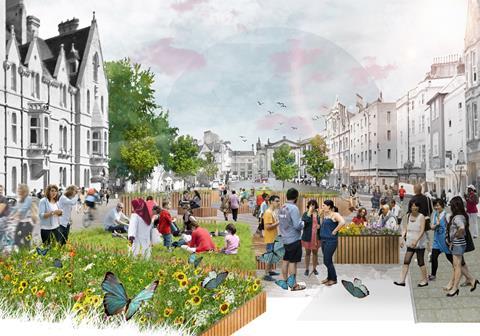 Oxford council has lodged LDA Design's plans to temporarily pedestrianise the western half of Oxford's Broad Street, creating a major new public space in the city centre for the summer.
The practice was chosen by the local council to work up the proposal as part of a drive to support the city's post-covid economic recovery.
The car-free plans would see lawns and wildflower meadows planted along the street to create a new public square to host community and arts events.
Deputy council leader Tom Hayes said the proposals will bring the street back to life: "Oxford's iconic Broad Street is one of the best streets in Europe, and it's set to get even better.
"On a perfect summer day, children will be able to play, people will be able to pause for cool refreshments."
The council, which said it wants to pedestrianise more of Oxford, also sees the idea as a way to trial long-term options for better civic spaces in the city.
LDA Design director and project lead Dafydd Warburton said the plans would improve pedestrian access along the street, which boasts multiple listed buildings and the UK's largest academic bookseller, Blackwell's, which has traded there for 150 years.
Warburton said: "Currently the space is heavily contested, with pedestrians confined to narrow pavements. This is a fantastic opportunity to test new ideas for a more inviting public realm."
The practice and highway engineers Stantec are each offering a two-week work placement to a design student from Oxford Brookes University as part of their social value commitment on the scheme.
The decision on the application for a temporary traffic regulation order will be decided by Oxfordshire County Council, which is the highway authority.