Dinner and texts were not meetings, housing secretary tells MPs
Housing secretary Robert Jenrick has told MPs his decision to speed up his approval of the controversial Westferry Printworks scheme to help the developer avoid paying a £50m charge was "perfectly fair".
Text messages and documents released last month show the minister asked officials to fast-track the application for the £1bn scheme to help Richard Desmond, the owner of the scheme's developer Northern & Shell, to avoid the Community Infrastructure Levy (CIL) which was introduced by Tower Hamlets council in January.
Questioned today by MPs on the housing select committee about the process which led to his decision to approve PLP's 1,500-home scheme, Jenrick said: "I think it was a perfectly fair decision to try and get this done one way or another before the CIL charge came in."
He added: "It is a material and legitimate decision to try if one can to make a decision before a material change in circumstance might occur."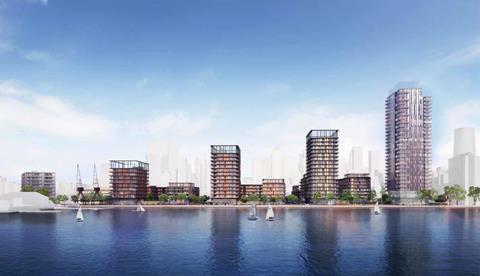 Officials advised Jenrick on the timing of the CIL charge on his first day back in the office after the 2019 general election, weeks after the minister was shown a video of the scheme by Desmond at a Tory party fundraising dinner in November.
Desmond subsequently texted Jenrick asking him to speed up his decision "as we don't want to give Marxists a load of doe [sic] for nothing!". Tower Hamlets council is Labour-controlled.
Asked if it would have been helpful to include reference to the fundraising dinner and the text messages in the final decision letter, Jenrick said: "I'm not sure about that, because these are not meetings.
"If a minister has meetings they are disclosed through the official channels."
He added: "If we have a formal meeting then we have a read out from that and that might be something that might be disclosed, but that wasn't the case here."
Jenrick went on to speculate that the reason the scheme, which first came before Tower Hamlets council in 2018, had been delayed, was that councillors "didn't like the applicant or application".
He said: "A fair-minded person would read into this situation that Tower Hamlets council chose to sit on the application rather than decide it because they didn't like the application or because they didn't like the applicant."
He also hinted that CILs could be reformed in upcoming planning reforms announced by MHCLG earlier this week.
Asked whether CIL charges should be applied at the point of application and not the decision, Jenrick said it was "an interesting question".
The government's planning reforms are due to go out to consultation shortly and Jenrick said the developer contribution system would be part of that conversation.
He added: "What I would like to see is a system which is more certain for all parties, both the applicant and the council and one which does deliver a fair contribution towards the social infrastructure of local communities."
He said he was convinced there was a better system.