Latest plans for Docklands site would deliver more than 1,300 new homes and a new secondary school
PLP Archtiecture has produced a further set of proposals for new homes at the Westferry Printworks site in east London – the third since its original 722-home scheme was granted planning permission seven years ago.
The practice's latest scheme would deliver a five-storey secondary school and 1,358 homes on the Isle of Dogs site, south of Canary Wharf. Details have emerged in a report to members of Tower Hamlets Council's Strategic Development Committee.
In the report to committee members, planning officers said the revised proposals were the subject of pre-application talks with Westferry Developments that commenced in June.
The firm, which is part of former Daily Express publisher Richard Desmond's Northern & Shell business empire, was first granted planning permission for a residential-led mixed-use development at the 5.08ha site in 2016.
However its subsequent bid to more than double the number of homes approved in that scheme failed, despite winning the backing of then housing secretary Robert Jenrick. In January 2020, Jenrick overruled the advice of a planning inspector to approve a version of the Printworks scheme that included 1,524 homes in towers of up to 44 storeys.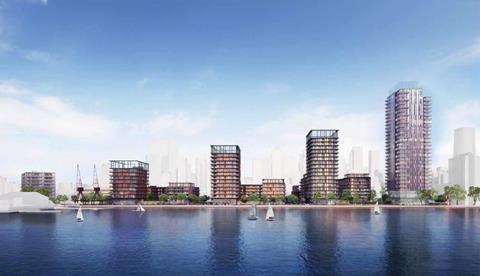 That decision was quashed by the High Court after it emerged that Jenrick had discussed the scheme with Desmond at a fund-raising dinner for the Conservative Party ahead of issuing his decision. A re-run inquiry considered the plans afresh but resulted in the scheme being rejected by junior housing minister Eddie Hughes in 2021.
The rejection letter said the benefits of the scheme did not outweigh the harm the proposals caused to the setting of the Maritime Greenwich World Heritage Site, the Old Royal Naval College and Tower Bridge.
It also found that the scheme breached a raft of local, national and London-wide planning policies, including on design quality and systems for ensuring sufficient affordable housing would be delivered.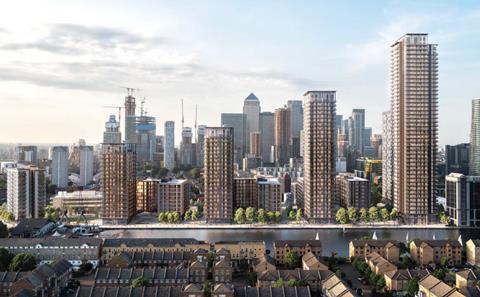 In November last year Westferry Developments floated pre-application proposals for a 1,200 version of the Printworks scheme, the tallest element of which would have been 31 storeys in height.
The tallest element of PLP's latest proposals for the developer is also 31 storeys, but the height of several other residential blocks has been increased to deliver additional density and a further 15-storey block has been introduced.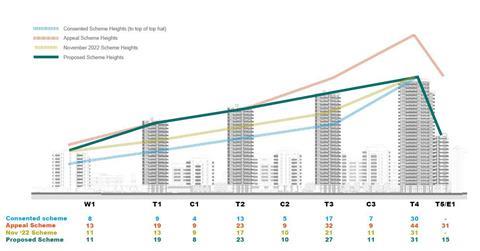 Tower Hamlets' report to Strategic Development Committee members said the scheme would deliver 35% "affordable" housing, based on habitable rooms, with a mixture of "intermediate" homes and affordable-rent properties but no social rent housing.
The November 2022 scheme had proposed 7% affordable housing, the report said.
A planning application for the latest incarnation of the proposals has yet to be submitted.