Knight Architects, East and Waugh Thistleton all involved in Meridian Water project
Jacobs has been appointed to carry out technical design and planning advisory services to Enfield council as part of a £6bn infrastructure project at Meridian Water.
The firm will work closely with Knight Architects, East and Waugh Thistleton to complete the 20-year regeneration programme in Upper Edmonton, north London.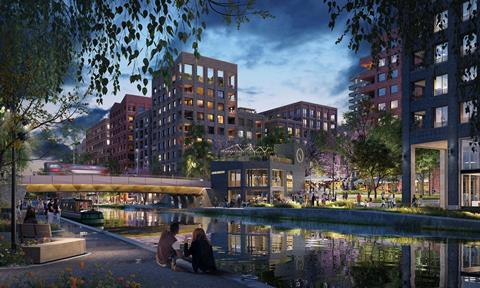 Led by the council, the project will include public spaces and community facilities, as well as 10,000 new mixed-tenure homes, of which 50% will be affordable, next to the Lee Valley Regional Park.
The area will be linked by a new road, connecting the recently opened train station and a series of mixed-use spaces to create a new neighbourhood.
Jacobs, who has around 52,000 employees, will also create a digital working environment to allow clients and the project team to work together and produce datasets to allow testing of the masterplan as it develops in the coming years.
Construction enabling on the first phase, known as Meridian One, will be carried out by Vistry and includes almost 500 homes, public squares, a makers/creators workspace, a skills and training academy, and leisure facilities.
The first phase is expected to be complete in 2022.