Railway also recruiting urban and landscape designers and sustainability specialists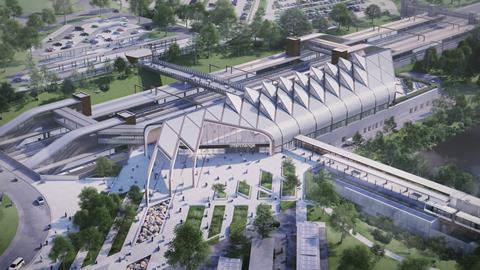 HS2 has launched a recruitment process to diversify its design panel by appealing to architects from under-represented backgrounds to apply.
It is the first time since the independent advisory panel was established in 2015 that it has undertaken a comprehensive "refresh" to bolster its mix of skills and perspectives.
HS2 Ltd is seeking architects, urban and landscape designers, masterplanners, engineers and specialists in sustainability and inclusive design.
Design director Kay Hughes and dRMM's Sadie Morgan, who has chaired the panel since its inception, said they wanted to ensure "Britain's most ambitious infrastructure project has the support it needs as it moves into the next phase of development".
The panel's role is to support and hold to account HS2 Ltd and its partners by critiquing proposals for the various parts of the railway including stations, viaducts and landscaping, as well as advising on broader design issues.
Hughes and Morgan said they were particularly keen to receive applications from disabled people, women and those from black, Asian and minority ethnic backgrounds as they are "underrepresented throughout the building industry".
"Participation in the panel may be one way in which the next generation of talented designers from diverse backgrounds can build their professional profile and experience. We believe this has potential to make a small but worthwhile contribution to improving the diversity of the built environment professions," they said.
HS2 was given notice to proceed on phase 1 - the London to Birmingham section - a year ago and work has begun at a number of sites.
Morgan praised the "consistency and passion" of the existing 39 members, most of whom will remain, adding: "We are looking for people whose practical experience will add to the panel's expertise and make a positive and thoughtful contribution to the exciting – and sometimes challenging – topics and projects ahead."
Hughes described meeting the scale of the design challenge across HS2 as "a world-class endeavour" requiring the combined expertise and experience of multiple teams.
"HS2 wants to achieve the highest standards in design, and it values the contribution of the design panel members in providing advice and supporting the programme to achieve those high standards," she said.
Remuneration is based on a day rate of £450 plus travel expenses.
To apply email HS2@frame-projects.co.uk for a recruitment pack and application form. Applications will be considered by Morgan, vice-chair Tony Burton, HS2 Ltd staff and Frame Projects which provides secretariat services for the panel. The process closes on May 10.