Practice fends off bids from Fosters, BIG and KPF to land landmark commercial job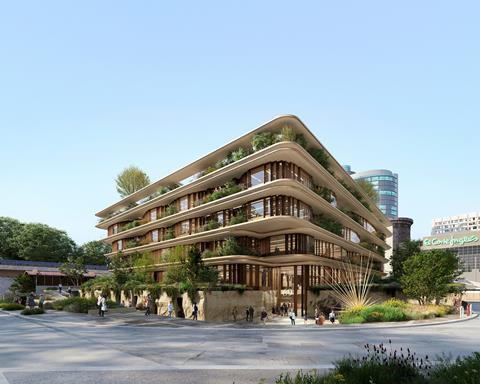 Heatherwick Studio has beaten a number of high-profile rivals to land its first job in Spain.
The practice beat Fosters, BIG and KPF to be selected by El Corte Ingles, Europe's biggest department store chain, to design a new office building in Madrid.
Located close to El Corte Inglés' flagship store in Paseo de la Castellana, the building area is nearly 15,000sq m above ground and will be the first Heatherwick Studio project to be built in Spain.
The proposal for Castellana 69 has been developed in collaboration with the local offices of CLK architects and BAC Engineering Consultancy Group.
Thomas Heatherwick, founder of Heatherwick Studio, said: "It's thrilling for my studio to be building our first project in Spain. Castellana 69 is an exciting opportunity to move away from the formality and staleness of so much modern office building design to develop a more humanised workspace that simultaneously prioritises social and environmental sustainability."
It is being built on the last plot of land in the Azca area, Madrid's financial and business hub.
The office has been designed to promote both social and environmental sustainability and feature a central courtyard that brings green space into the centre of hte workspace.
The practice has also used sustainable materials and what it called advanced technology. It will include solar panels that will produce more energy than the building consumes which will ultimately make it net zero carbon.
The practice has also said the amount of embodied carbon used will be a fraction of that in a typically built office building.
Construction is expected to start early next year and is due to complete in 2024.