Four-bedroom home in Hampshire will replace dilapidated nursery buildings
Greenaway Architecture has secured detailed planning consent for a four-bedroom "contemporary farmhouse" near the village of Kingsclere in Hampshire.
The practice's proposals will replace dilapidated nursery buildings with a modern family home described as being inspired by "the rural vernacular of the area" – specifically long, rectangular barns with pitched roofs and gable ends.
Permission in principle for the construction of a new home at the site, which is outside of Kingsclere's defined settlement boundary, was granted by Basingstoke and Deane Borough Council in February last year. Greenaway's worked-up plans were approved the following November.
Greenaway Architecture founder Duncan Greenaway said the house was designed to provide both a sense of shelter and a connection to the outdoors.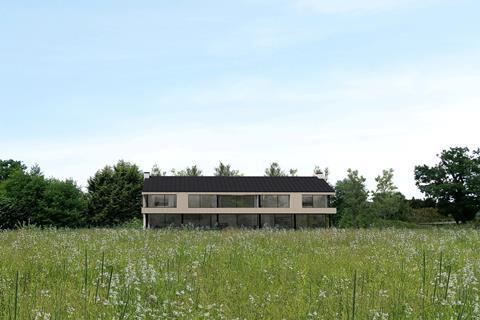 "The design recognises that traditional materials, when used in a new and innovative way, can establish a strong relationship between the building and its environment," he said.
"The house is orientated to maximise passive solar gain during winter months whilst minimising unwanted solar heat gain in summer, enhancing energy efficiency and comfort, along with a host of other sustainability measures.
"The design is for a robust and characterful home that will age gracefully and evolve with its landscape over time."