1960s slab to be stripped back to its concrete core and rebuilt to passivhaus standards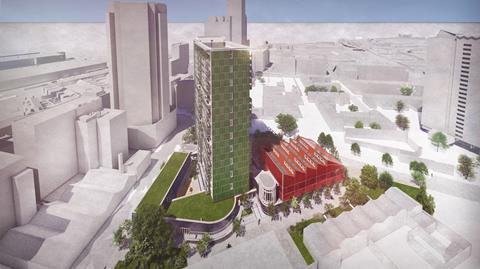 A design team consisting of Proctor & Matthews and ECD Architects has been given the green light for a refurbishment of a high-rise tower in Stratford to Passivhaus standards.
The London Legacy Development Corporation approved the plans last week for James Riley Point on the Carpenters Estate, located next to Queen Elizabeth Olympic Park.
The scheme, carried out by the council's wholly owned developer Populo Living, will see the 23-storey slab block stripped back to its concrete frame and rebuilt to modern sustainability standards with larger balconies and four additional flats.
The exterior of the 1960s building will be clad in glazed, coloured ceramics, and its interior reconfigured with new fittings and room layouts with 94% of the tower's 136 homes to be at social and affordable rents.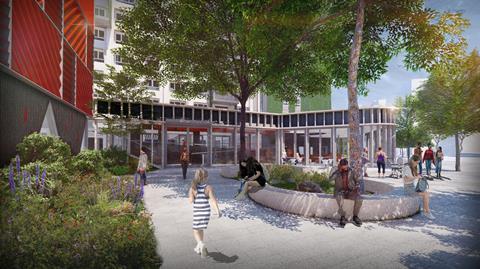 Proctor & Matthews director Andrew Matthews said he expects the redevelopment to become a "benchmark for the re-use of similar buildings across the UK".
He added: "The retention of such a large structure helps meet the council's commitment to 'carbon reduction' while delivering homes that meet modern standards."
A new community and sports complex will also be built at the base of the building including a sports hall, a 5-aside football pitch, a cafe and facilities for an after school club.
James Riley Point is one of three similar blocks on the Carpenters Estate, and the planning approval for its refurbishment is the first phase of a 2,200-home regeneration of the wider site. Residents cast votes on plans last year, with nearly three-quarters in favour on a turnout of 67%.
The estate neighbours Mikhail Riches' 600-home Bridgewater Triangle development, which is under construction on a site at the southern end of the Olympic Park.
Last week also saw approval granted for a footbridge, designed by Stirling Prize nominees William Matthews Associates, linking the two sites over the Waterworks River.